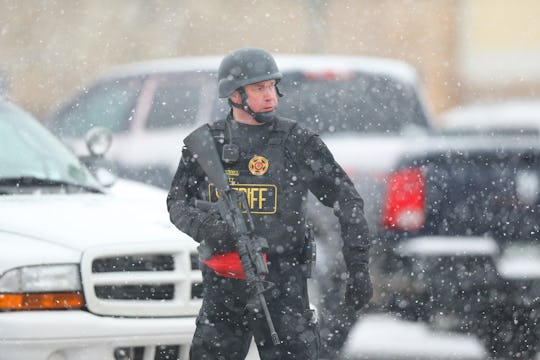 Officer Garrett Swasey's Wife's Statement Shows Why We Should Focus On The Victims
On Sunday, Garrett Swasey's wife released a statement honoring the fallen officer. Swasey was killed during the shooting at a Planned Parenthood clinic Friday in which two others were also fatally shot. Swasey left behind his wife and two children, ages 10 and 6. The statement, which the Colorado Springs Police Department shared on Facebook Sunday, is short, touching, and highlights those whose lives have been shaken by the Planned Parenthood shooting.
The family of Officer Garrett Swasey sincerely thanks everyone for their support during this very difficult time. Our loss cannot be expressed in words. While the nation now knows Garrett as a hero who gave his life for others, he was also a devoted husband of 17 years and a wonderful father to his two children. His greatest joys were his family, his church, and his profession. We will cherish his memory, especially those times he spent tossing the football to his son and snuggling with his daughter on the couch.
Garrett was born in Melrose, Massachusetts. After a successful career in ice skating, Garrett found his calling as a police officer. Helping others brought him deep satisfaction and being a police officer was a part of him. In the end, his last act was for the safety and wellbeing of others and was a tribute to his life. What we need most today, and in the coming weeks, is your prayers for our family and for others who were impacted by this tragedy.
We are grateful for the tremendous outpouring of love that has come from the community and across the nation.
We understand this is a public tragedy felt by many and we also appreciate your support for us to grieve privately.
A six-year veteran police officer at the Colorado Springs campus of the University of Colorado, Garrett Swasey reportedly trained as a champion ice dancer and spent time as an Elder at his church, where he also led groups and played guitar. These details, shared by family, friends, and colleagues, are a reminder on who we should really be focusing after this tragedy — the victims of the Planned Parenthood shooting, rather than the gunman who perpetrated it.
Suspected gunman Robert Lewis Dear, who was taken into custody on Friday, has been the subject of numerous articles since the shooting, most focused on what his motive might have been. That's understandable — in the aftermath of a tragedy, people want to understand why it happened and how to keep it from happening again. With this case, there's even more of a desire to do so — mass public shootings are happening around the country with increased frequency, leaving public safety officials desperate to stop the epidemic. And then there's the fact that at the scene of the crime, Dear reportedly said, "No more baby parts" — leading people to wonder whether Republican rhetoric contributed to the attack on Planned Parenthood.
However, the media (and by extension the public, since the media generally covers what interests the public) can either work as a spotlight that turns criminals into celebrities, or it can focus on the heroes and victims of their attacks. By reducing the national — and international — attention mass shooters get, they lessen the appeal for others who might be considering similar acts.
Fortunately, in the wake of the shooting, many details about Swasey have emerged in celebration of his life and mourning over his loss. Those who were part of Swasey's competitive ice-skating life described him to Icenetwork.com as a selfless, calm "rock." Swasey's officer colleagues also paid him tribute a day after the shooting. Swasey was part of a small department, and was described by Lt. Marc Pino as "always that person wanting to be the first person there, helping people out."
As with the many tragic events that have rocked the world recently, it feels wrong to spend more time and energy focusing on the people behind attacks of terror, though the impulse to focus on the perpetrator is understandable. The statement issued by Swasey's wife is a poignant reminder that the people who deserve our attention throughout this all are the victims of the attack and those they leave behind.
Over a thousand people have contributed to a fund set up to cover Swasey's children's education costs, raising over $77,000 so far.
Image: Justin Edmonds/Getty Images News