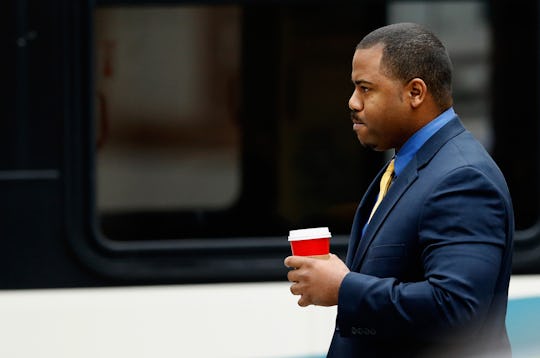 Officer William Porter Might Testify In The Other Freddie Gray Trials, Thanks To A Judge's Orders
On Wednesday afternoon, a judge compelled Officer William Porter to testify in the trials of two other officers who are facing charges for their involvement in the arrest and death of Freddie Gray. Porter was the first officer tried out of the six who are facing charges in the case. Porter's case ended in a mistrial last month and he will be retried in June, according to CNN. It's unclear just what his testimony in two of the five remaining trials would mean, but his lawyers said they will file an appeal, according to CNN.
Baltimore Circuit Judge Barry Williams ordered Porter to testify in the trial of Caesar Goodson, the man who was driving the police van that Gray was placed in after his arrest, according to NBC Washington. Gray died after sustaining a neck injury and a severed spine while in police custody in April, according to CNN. Goodson is charged with second-degree depraved-heart murder, which is the most serious charge that any of the six officers face, according to the Baltimore Sun. He is also charged with manslaughter, second-degree assault, and misconduct in office, according to the Sun.
Porter wants to avoid testifying in Goodson's trial, according to NBC. He told the Sun he would invoke his Fifth Amendment right that protects against self-incrimination. Porter still faces four charges: involuntary manslaughter, second-degree assault, reckless endangerment, and misconduct in office, according to the Sun. In a brief phone conversation with the Sun Wednesday night, Porter simply said, "It's not over yet."
Prosecutors have also said that Porter is a material witness in the case against Sgt. Alicia White, whose trial will begin later this month, according to CNN. Using Porter against White and Goodson will put prosecutors in an interesting situation, though. Despite Porter's attorney's claims that he could incriminate himself, the law makes it such that anything prosecutors learn from Porter's testimony against the two officers cannot be used against him when his own case is retried, according to CNN.
But Porter's lawyers are appealing against Williams' order because they say that there's no way to guarantee that Porter's testimony won't later be used against him, according to CNN. Gray's family has remained calm throughout the entire ordeal. Richard Shipley, Gray's stepfather, asked protestors — who gathered outside of the Baltimore courthouse after Porter's mistrial — to also remain calm and let the trials play out, according to CNN:
We are hopeful that (Baltimore State's Attorney Marilyn) Mosby will retry Officer Porter as soon as possible, and that his next jury will reach a verdict. Once again, we ask the public to remain calm and patient, because we are confident there will be another trial with a different jury. We are calm; you should be calm, too.
All of the officers being charged for Gray's death have pleaded not guilty, according to CNN.
Image: Getty Images News (2)