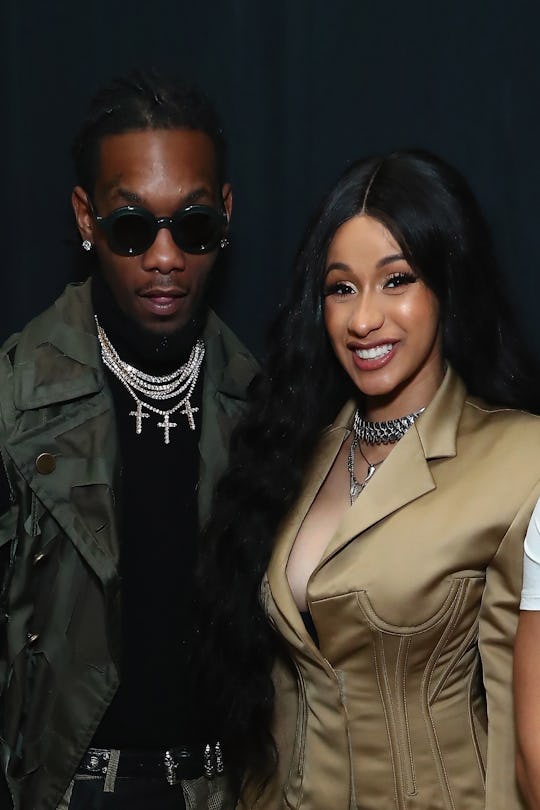 Astrid Stawiarz/Getty Images Entertainment/Getty Images
Offset's New Tattoo Honoring Baby Kulture Prompts Online Backlash, & It's Ridiculous
In this day and age, body piercings and tattoos are pretty darn common. Gone is the era when it was only people who wanted to look "tough" who inked and/or pierced themselves. These days, people decide to get tattoos for a number of reasons — and for many parents, a tattoo is the perfect way to honor their children. Whether it's having their child's name inked on their arm, or getting their kids' birth dates permanently written on their shoulder, there's a variety of ways moms and dads celebrate their offspring through body art. Well, apparently Offset's new tattoo honoring baby Kulture has prompted online backlash — and it's seriously ridiculous.
As E! Online reported, Offset took to his Instagram Story on Saturday to share with followers his freshest ink — which happens to be the name of the baby girl he shares with his wife, Cardi B. In a series of videos and photos, Offset revealed he recently got "Kulture" tattooed on the side of his face, along where sideburns might be. (Sweet, right?) Although baby Kulture is Cardi B's first child, she's actually Offset's fourth child, The Sun reported. He shares an 8-year-old son named Jordan with Justine Watson, a 3-year-old son son named Kody with his ex Oriel Jamie, and a daughter named Kalea Marie with rapper Shya L'Amour, according to the publication.
The father of four made sure to clarify that Kulture wasn't the only one of his children to be represented permanently on his body. "No, I don't just got her name, man," Offset said to the camera about four updates into his Instagram Story. He then proceeded to show fans a tattoo that reads, "Kody" on the other side of his face, as well as one on his shoulder that says, "Jordan." In the same video clip, Offset wrote, "All kids tatted Don't play wit me."
In case you were wondering, Twitter users had a lot of feelings about Offset's new tattoo. One person made it a point to jab the Migos rapper about his other children — even though he already explained he had their names tattooed on him as well. This person commented, "What about his 4 other kids?" (Ahem, he only has three other children. Thank you very much.)
Others were critical about the tattoo placement. One Twitter user wrote, "But... why tho? There's a few people I love enough to get a tattoo for but there's nothing and no one on this earth that would get me to tattoo my face. But more power to ya I guess."
Another person chimed in with, "Why??? I'm not against tattoos but why on your face?"
Yet another Twitter user wondered how Kulture might feel about the tattoo years from now. They wrote, "Oh yeah, she's going to LOVE it when she gets older. I'm sure it won't embarrass her AT ALL. Whatever."
To all of this negativity, I say: To each their own. At least Offset isn't getting tats of his kids' doodles on his face, right? Because apparently, that's a trend that's taken off in recent years, according to HelloGiggles. It's a creative idea, no doubt — but clearly not for everyone. (As adorable as I think some of my kids' drawings are, a few weeks on the refrigerator is about as good as it gets for us.) Nor is Offset getting the names of his partners plastered across the side of his face. (Although, I can't say for certain he hasn't in other, less-visible areas of his body.) Because the way I see it, relationships with significant others can come and go more quickly — typically, at least — than the relationships between parents and their children. So what's the big, flippin' deal, folks?
I don't currently have any tattoos; however, I don't look down on anybody who already does. Although facial tattoo of any sort isn't my cup of tea, what others do with their bodies is their business, not mine. Personally, I think Offset's new tat is a sweet tribute to his baby girl. It's something he was clearly excited to share with his Instagram followers — and I definitely don't think he's deserving of the harsh criticism.
Newsflash: If you don't like the idea of a facial tattoo of your kid's name, then don't get one. It's as simple as that.