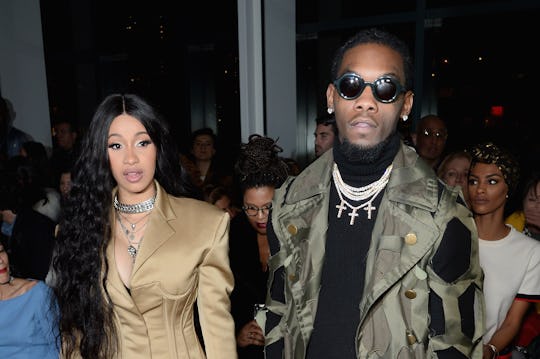 Andrew Toth/Getty Images Entertainment/Getty Images
Offset's Quotes About Cardi B Show He's Proud Of Her Success
Now that Cardi B's due date is right around the corner, fans are interested in her life more than ever. People want to everything from the details about her pregnancy to her future career plans. But most of all, Cardi B's supporters are interested in her relationship with her fiancé, Offset. Considering Offset is the father of Cardi B's daughter, it makes sense people want insight into their union. And if you've ever worried about the state of their relationship (they've had problems in the past), rest assured Offset will remain Cardi B's biggest supporter no matter what happens. Want proof? Look no further than Offset's heartwarming quotes about Cardi B's work ethic and drive. It's clear Offset thinks the world of Cardi B.
Offset — a rapper and a member of the musical trio Migos — is a man of few words. Similarly to most musicians out there, Offset prefers to express himself through song. But in those rare moments that Offset does open up to the press, it's pure gold from start to finish. Take Offset's January 2018 interview with Rolling Stone, for instance. In the candid sit-down, Offset waxed poetic about his admiration for Cardi B, and he gushed about her best qualities. The cute quotes arrived three months after the pair got engaged mid-concert in October 2017.
Offset first sang Cardi B's praises when he opened up about how the two got to know one another. Apparently, Offset immediately *loved* Cardi B's music. "I was like, 'Damn, I am on her,'" Offset recalled, according to Rolling Stone. "I am like, 'Sh*t, I like Cardi B!'" Unlike some men out there, Offset isn't intimidated by Cardi B's success and talent. Offset has always been Cardi B's cheerleader — even when her fame eclipses his.
Later in the interview, Offset got real about why Cardi B is the one for him. Unsurprisingly, Offset has a deep appreciation for Cardi B's strong work ethic and her commitment to success.
"She [Cardi B] is real solid, came from where I came from, did what I did. She's herself, man," Offset told the outlet. "I seen her develop from the trenches all the way up, and I like how she did it. I respect her grind as a woman. She came to the game with some gangsta sh*t. I like that. I f*ck with her. That's my baby."
Offset followed up this glowing review with a sweet message to Cardi B on Valentine's Day. "Happy valentines day to my queen U rode with me nobody know how hard you worked to become the star you are," Offset gushed in the message, according to Instagram. "U smart crazy lovable loyal honest and a hustler what else could I ask We gotta a long way to go but we gone go I love you." Aww. I love how every quote about Cardi B from Offset focuses on her intelligence and strength as a person.
Although I don't want to get too repetitive here, I can't help but share Offset's message to Cardi B on her 25th birthday. "Happy Bday, you are amazing to me," Offset penned, according to BET. "You got it out da mudd. No help. Nobody was believing at first, but that made you go harder. You're not weak, you take care of your whole family and me. I love you." Too sweet.
All in all, I think it's safe to say Offset and Cardi B will enjoy a lasting relationship. And even if things do fall apart somewhere down the line, I'm confident Offset will continue to treat Cardi B with love and respect. Offset is Cardi B's number one fan, after all.