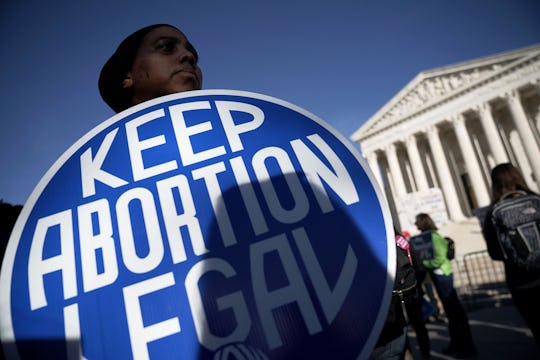 Alex Wong/Getty Images News/Getty Images
Ohio House Passes "Heartbeat Bill" That Would Criminalize Abortion & Could Challenge Row V Wade If Signed Into Law
Since the outcome of the 2016 presidential election, one major issue that many women have been concerned about is the potential overturn of Roe v. Wade, the bill that safeguarded reproductive care — and specifically, abortion rights — under federal law. On Nov. 16, The New York Times reported that Ohio is one step closer to passing dangerous anti-abortion legislation, with the passage in the Ohio House of Representatives of a bill that would criminalize abortion of fetuses with a heartbeat.
It goes without saying that legislation like this does have to go through due process before it is made law. However, there does seem to be a scary amount of momentum in the country overall not only to ban abortions altogether, but to enforce severe consequences to mothers or doctors found "guilty" of it.
House Bill 565 extends the definition of a "person" in the state's criminal code to include any fetus with a detectable heartbeat, Huffington Post reported. The New York Times reported that, if the bill becomes a law, anyone found guilty of aborting a fetus with a heartbeat could be charged with a fifth-degree felony, which is "punishable in Ohio by up to one year in prison and a $2,500 fine." However, other outlets like Newsweek are painting more dire pictures:
Mary Ziegler, a professor at Florida State University's College of Law who specializes in the legal history of reproduction and the Constitution, told Newsweek that while House Bill 565 "doesn't actually say that women would get the death penalty," it does "treat abortion as homicide and pretty clearly includes women having abortions among people who could be punished for having abortions."
Therefore, Zeigler told Newsweek, women facing "severe penalties" is "on the table" if this bill becomes law.
A heartbeat is detectable as early as six weeks gestation which, as HuffPo points out, is before many women even realize they're pregnant. Bill 565 makes "no exceptions" for victims of rape, incest, or instances in which the life of the mother is at risk.
However, as The American College of Obstetricians and Gynecologists told USA Today in a statement that sometimes, abortions are medically necessary. "Abortions are necessary in a number of circumstances to save the life of a woman or to preserve her health. Unfortunately, pregnancy is not a risk-free life event."
But there are other reasons that women would seek abortion that don't have to do with threatening their life. In fact, The Guttmacher Institute reported that three fourths of women who seek abortions do so for lack of financial resources (they could not theoretically pay for pregnancy care and/or the costs related to raising a child), just as many say it would interfere with work, school, or their ability to care for others, often "including existing children."
Some politicians seem confident that the bill will pass, despite protests, and despite the fact that Ohio Gov. John Kasich has said he will "veto" the bill immediately if it is brought to his desk, The Columbus Dispatch reported. (In 2016, Columbus.com reported Kaisch vetoed a similar "heartbeat" bill, citing concerns that it would not pass constitutional challenge, but also confirmed a 20-week abortion ban at the same time.)
As reported by The New York Times, the bill's lead sponsor, Representative Christina Hagan, said the bill was "crafted specifically to challenge Roe v. Wade." Hagen also said, "We believe Ohio is best positioned to send this through the Circuit Courts and to the federal Supreme Court."
Of course, it should be noted that banning — or even criminalizing —abortion will not eliminate abortion. It will only ensure that more women are seeking them out in unsafe and potentially dangerous ways.
The United States can turn to countries such as the Dominican Republic as an example. According to Human Rights Watch, the country's ban on abortion has lead to many "clandestine" abortions, endangering many lives.
"Women and girls in the Dominican Republic have always defied the abortion ban, but they have been forced to put their health and lives on the line to end pregnancies clandestinely," Margaret Wurth, senior women's rights researcher at Human Rights Watch and the author of the report that outlined the severe issues that the country is having with reproductive health rights. "Congress should decriminalize abortion and ensure that women and girls have access to safe and legal abortion by trained providers, instead of leaving them to use dangerous underground methods."
All in all, if Bill 565 were to be passed, it would undoubtedly come with severe consequences for women's reproductive health.
Editor's Note: The post has been updated from its original version to clarify the potential legal ramifications of House Bill 565. The headline has been changed.