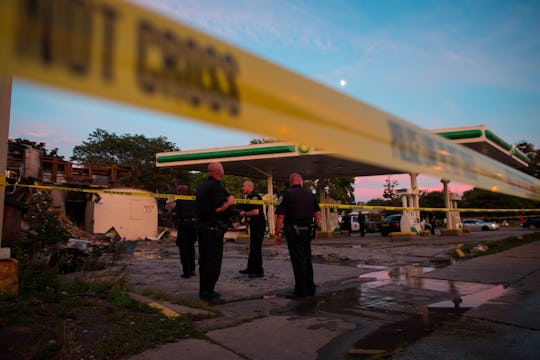 Darren Hauck/Getty Images News/Getty Images
Ohio State University Campus Map Shows Where The Active Shooter Incident Unfolded
An active shooter alert went out to the The Ohio State University campus community Monday morning, and early reports are conflicted as to whether seven or eight people have been transferred to local area hospitals. An Ohio State University campus map shows the area where the suspect reportedly crashed into a university building and the shooting unfolded.
Update: Local area hospitals said they were treating eight patients from OSU and that none had life-threatening injuries, according to the Associated Press. Law enforcement said the suspect ran down pedestrians with a car, then stabbed them with a knife, according to NPR.
Around 10 a.m. Monday morning a so-called "Buckeye Alert" text message was sent out, according to WYFF, that read, "Active Shooter on campus. Run Hide Fight. Watts Hall. 19th and College." Watts Hall is OSU's materials science and engineering building, according to CNN.
According to WBNS-TV in Columbus, Columbus' local fire department confirmed nine have been injured and transferred to local hospitals, and the one suspect was killed. A WBNS reporter confirmed that, just before the active shooting incident started, a vehicle crashed into a campus building.
Wyatt Crosher, and OSU sophomore told CNN was heard gun shots just across the street from where he was Monday morning:
My roommate and I heard about three or four gunshots from across the street, and soon after we heard a bunch of police and ambulances pull up across the street. We can't see the building where the shooting happened because of a dorm blocking our view. It truly sounded like gunshots, and really soon after we heard a bunch of sirens. We can see the police cars from our dorm.
Following the shooting, The Ohio State Wexner Medical Center released the following statement about the injured being treated at that facility, according to NBC4 News in Columbus:
Our priority is to ensure the health and safety of our patients, visitors and employees. At this time, we are taking the appropriate steps, including collaborating with local authorities, to understand what has occurred and to manage the situation. At this time, we are treating four victims at OSU Wexner Medical Center, none with life-threatening injuries. As we gather information, we'll post updates on our Intranet, website and online media room. For patients at OSU Wexner Medical Center, normal operations and appointments will continue as scheduled.
One witness, Kendrick Price, who is an academic adviser at OSU said he was looking out a second-story window when he saw someone running toward police and shot several times, according to ABC News.
Later law enforcement announced the suspect was dead and lifted the shelter in place order across campus, according to ABC News. Classes for the nearly 60,000 OSU students were canceled for the rest of the day, ABC News reported. OSU Emergency management said that the area around 19th and College Avenue, among other buildings, will remain closed until further notice.