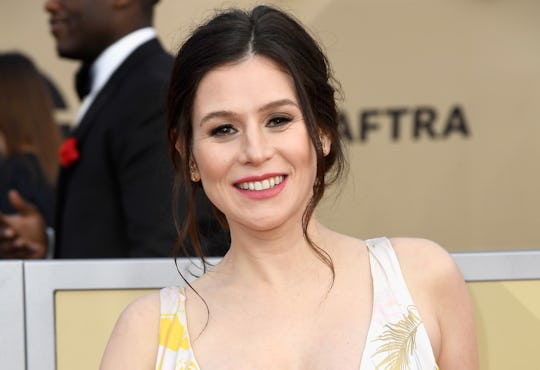 Frazer Harrison/Getty Images Entertainment/Getty Images
This 'OITNB' Star Felt Like A "Failure" When Her Birth Plan Didn't Work Out
The amount of pressure and judgement that moms face from society at large is bad enough, but it's particularly heartbreaking when you see a mom internalizing that judgement. Every parent should feel confident in doing whatever is needed to keep themselves and their children safe and healthy, which is why I'm desperately trying to figure out how to jump through my screen right now in order to hug Orange Is the New Black's Yael Stone, whose comments on her unplanned C-section make me feel even worse for her than I do for her tragic Netflix character, Lorna Morello.
Stone — who's Australian, BTW; props for that TV accent — gave birth to her first child, a daughter named Pemau Stone Bancroft, on May 30, according to People. The actor first announced that she and partner Jack Manning Bancroft were expecting at the Screen Actors Guild Awards in January. At that time, she didn't have a birth plan in mind. "There's so many things that come up about choice and the way we approach our lives as women, particularly," she told People at a gala after the award ceremony. "So for me, I'm 100 percent pro-choice, and it turns out it expands into my pregnancy."
Well, she's off to a great start, right? The three-time winner of Outstanding Performance by an Ensemble in a Comedy Series continued, "There's so many choices that we can make to feel comfortable, whether I want to give birth in a hospital, [or] I want to give birth at home [or] at a birthing center." Choices! Options! You do you! But the thing about birth plans is that they're really more like birth hopes or birth wish lists. You can have your top choice, but nature is unpredictable, and you'd better believe that when a baby decides it's coming out in a certain place at a certain time, there's little you can do to convince them otherwise. Call it a foreshadowing of what's to come, because that theme will continue for the rest of your parenting experience.
After Pemau's birth, Stone's social media presence was scarce; she's shared just one nursing selfie and a handful of promotions for the new season of OITNB. But heading into her daughter's second month of life, she took to Instagram to share "the most vulnerable moment I've ever experienced," explaining that she wanted "to be honest, to be raw, to be real."
We labored at home for 18 hours, hoping to deliver there naturally. The first 10 hours I felt like a warrior, after that something changed. The next 8 hours had me questioning myself, digging deeper than ever before and still not making the progress that our baby needed. I felt like a failure when knew it was time to go to hospital but we were so incredibly lucky to have that as an option.
Water births have become more popular as a a result of society's increasing fetishization of things perceived as "natural," but there's no reliable data on the practice. According to the American College of Obstetricians and Gynecologists' committee opinion (which has also been endorsed by the American Academy of Pediatrics), water births haven't been effectively studied in the United States, but a review of U.K. data found no evidence of any benefit for babies. Proponents of the practice claim that water births decrease the length of labor, which may be true, but other claims, such as decreased pain, remain unproven. The ACOG further notes that second-stage labor and delivery in water present an increased risk of infection, drowning, and umbilical cord rupture for newborns. The official official recommendation is "that birth occur on land, not in water."
But still, once a pregnant woman has an idea in her head, she's nearly as hard to reason with as the fetus, so it's understandable that Stone stuck to her guns. It just kills me that she blamed herself for something she literally had no control over. She continued the story in a second post:
By hour 21 of labor I was being rushed off for an emergency C section. When our beautiful daughter arrived she needed help to breathe and I needed help stay conscious. Without modern medicine and the expertise of the doctors and nurses our baby would not be here, I would not be here. Our birth experience was not what I'd wanted for but I know how lucky I am to hold my baby and feel her heart beating next to mine.
There is something of a happy ending to this story, though. Stone wrote that in her quest to make peace with her experience, she learned about the Aminata Maternal Foundation, an Australian non-profit that promotes maternal health in Sierra Leone, where 1 in 17 women are likely to die during pregnancy or childbirth. As a token of gratitude for being "part of [her] healing," Stone wrote, she's making a donation to the organization, and encourages her followers to do the same.
I hope that once the last of the pregnancy hormones and sleep deprivation wears off, Stone realizes that just like those at-risk mothers in Sierra Leone, she's not a failure because her birth didn't go the way she expected. In the end, she did what was right for her and Pemau, and there's certainly nothing for her to be ashamed of.