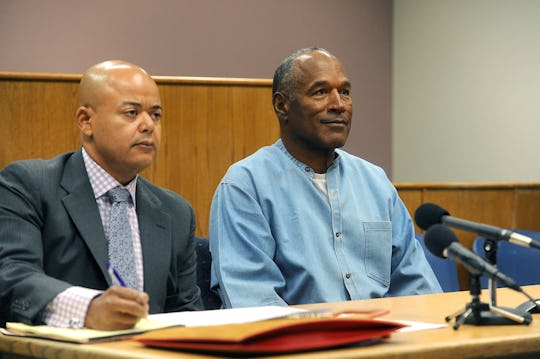 Pool/Getty Images News/Getty Images
OJ Simpson Granted Parole After 9 Years In Prison
After spending nine years in prison for his involvement in an armed robbery in Las Vegas, O.J. Simpson has been granted parole. On Thursday, it was announced that the 70-year-old former football star could reportedly be free in a matter of months, or as early as Oct. 1.
According to ABC News, Simpson faced a Nevada parole board earlier today to deliver his account of a botched robbery that landed in him in jail almost a decade ago. On Sept. 16, 2007, Simpson was arrested after he led a group of men into a Las Vegas hotel and casino "to steal sports memorabilia at gunpoint" — things he reportedly contended were his personal possessions — according to ABC News.
At Thursday's hearing, Simpson "rambled throughout the first 30 minutes" as the parole board asked him why he participated in the armed robbery, NBC News reported. And roughly one hour into the hearing — which was reportedly only supposed to run for 15 minutes — Simpson appeared remorseful and apologized. According to NBC News, Simpson said during the closing remarks:
I've spent nine years making no excuses about anything. I am sorry that things turned out the way they did. I had no intent to commit a crime... I've done my time. I'd just like to get back to my family and friends — believe it or not, I do have some real friends — and I tried to be helpful to everybody.
About 30 minutes later, the panel unanimously voted to grant parole.
Although Simpson has been granted parole, there are still many details to sort out in regards to the conditions of his release. And since his parole is due to expire on Sept. 29, 2022, the former running back could be living under these terms — which have yet to be decided — for about five years.
According to NBC News, under standard conditions for parole, Simpson must go directly to the program approved by the Division of Parole and Probation and report to his supervising officer following his release this fall. After that, he would then be required to submit "written monthly reports" to his officer until the end of his parole.
Simpson's parole hearing has gained a rather high level of media and public interest as this isn't the first time he's found himself in legal trouble. Following his highly publicized 1995 trial and acquittal for the alleged murder of his ex-wife, Nicole Brown Simpson, and her friend, Ron Goldman, Simpson earned a title as one of America's most well-known inmates.
While the Hall of Fame football star was once regarded as a beloved sports icon, his recent parole grabbed the world's attention for a much different reason. And only time will tell whether Simpson — previously dubbed "The Juice" — will spend his freedom quietly at home or will use this spotlight to intrigue the public's never-ending curiosity.