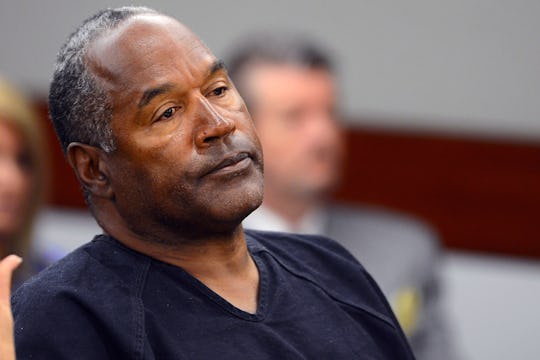 Ethan Miller/Getty Images News/Getty Images
O.J. Simpson Quotes On Nicole Brown Simpson's Death All Strike A Different Tone
The People v. O.J. Simpson: American Crime Story may be tying up Season 1's last episode Tuesday night, but viewers' curiosity is far from quenched. The trial originally captivated the American public in 1995, and many were surprised to see Simpson acquitted of any charges surrounding the deaths of Ron Goldman and Nicole Brown Simpson, the NFL star's ex-wife. For a heavily publicized case, however, there hasn't been much in the way of firsthand commentary, and statements or quotes from O.J. Simpson on Nicole Brown Simpson's death have been few and far between. In all fairness, it makes sense — during the infamous '95 trial, Simpson wouldn't have been able to talk much, and with all the controversy since then, it stands to reason that Simpson would likely want to keep mum.
However, Simpson's writing at least gives us a glimpse into how he felt about Brown's death, or at least how he wanted to portray his feelings. Shortly after Simpson was charged with Brown and Goldman's murders and began a high-profile, two-hour car chase, Simpson's friend (and later, attorney) Robert Kardashian read a letter from Simpson that may have shed some light on his feelings. In the letter, he wrote,
First, everyone understand. I have nothing to do with Nicole's murder. I loved her; always have and always will. If we had a problem, it's because I loved her so much. It was tough splitting for a second time, but we both knew it was for the best. Inside, I had no doubt that in the future we would be close friends or more. Unlike what has been written in the press, Nicole and I had a great relationship for most of our lives together. Like all long-term relationships, we had a few downs and ups.
But while the letter expressed love for Nicole, Simpson barely touched on his estranged wife's death (aside from saying he had nothing to do with it, of course). After he was acquitted of the Brown and Goldman's murders, he did refer to the night of June 12, 1994 as an "incredible nightmare" in a statement read by his son, claiming that finding the murderer would be his "primary goal in life" from there on out, according to The Los Angeles Times.
Another indirect — but notably cold — line about the murders came from Simpson's book, If I Did It. Admittedly, Simpson worked with a ghostwriter on the book, but his name is still on it. In it, according to Slate, Simpson wrote that "Nicole was on the fast-track to hell" and that "Nice people don't go around getting themselves knifed to death."
What strikes me about the three quotes is how wildly different they are in tone. Simpson's first letter mostly seemed like an attempt to assert his innocence. His statement in court addressed Brown's death as a "nightmare", which seems like his first expression of sadness at the event (although he referred to the trial as part of that nightmare as well). Conversely, the excerpt from If I Did It seemed to accuse Brown of getting what was coming to her.
Throughout it all, Simpson has continued to deny any involvement in the deaths of Brown and Goldman. As American Crime Story wraps, it seems like viewers will have to make peace with what they know of the story, since it's unlikely that many new details will emerge,two decades after the murders took place.