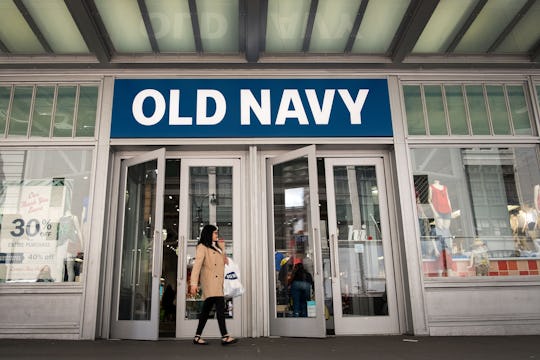 Drew Angerer/Getty Images News/Getty Images
Get $2 Tanks and $4 Uniform Shirts At Old Navy's Back-To-School Sale RN
There are very few things in this world that can be purchased for five bucks or less. A pack of gum, maybe? Or a cup of coffee (as long as it's not a fancy one). A sandwich would be pushing it, honestly. But thanks to Old Navy's current sale, you can now stock up on additions to your kid's wardrobe for less than you'd spend on lunch, with a shocking amount of items for as little as two dollars. So what are the best deals at Old Navy's Back-to-School Sale 2018?
From tanks to tees to shorts and flip-flops, the markdowns right now are so low, they're as close as you can get to straight-up complementary clothing. Whether you're thinking ahead to next summer (and buying everything one size up) or just snapping up some new lewks for that first month or so back at school when the temps are still at summertime highs, this sale is not to be missed. Seriously, if you waste this opportunity you'll definitely be sorry (especially when everything is full price again). Taking advantage of these discounts will save you so much cash in the long run, not to mention headaches over what your kid should wear in the morning — because everything on sale also happens to be stuff she'll totally want to wear.
Let's face it: You'll need all the extra money you can get to spend on school supplies, so get these deals while you can!