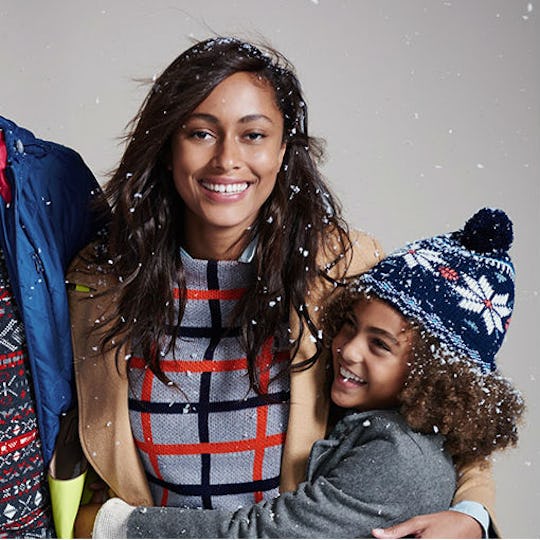 Old Navy's Black Friday Sale Is Underway, So Get Your Sweaters STAT
Thanksgiving week is upon us, and it's finally time to trade in tank tops and flip flops for sweaters and boots. Of course, you can't always rely on your old standbys from last season. Some of the sweaters are looking a little raggedy and a few gloves match have lost their match. It never hurts to freshen up your winter staples, and what better way to than that shopping Old Navy's Black Friday sale.
Because it's not just your winter wardrobe that needs some love. Between SO's husband's hole-dotted shirts and the kids growing out of last year's pants, there is a significant amount of clothes maintenance to handle. Stocking up on the basics in a necessity, and one stop at Old Navy will have the whole family covered for the season. Although this is an affordable place to shop all year long, the Black Friday discounts make the deals even sweeter.
Old Navy loves Black Friday so much, they are making it a weekend-long event. Yep, you can get those sweet deals for four days of fabulous sales. The best part? You don't even need to leave your house. 
Sale Times
After you've stuffed yourself with all of your Turkey Day favorites, you can shop the Old Navy sales and still have time to fit in a movie before crashing. Shop any of these day and times to save big.
Thursday, Nov. 26 — Store open at 4 p.m.
Friday, Nov. 27 — Store is open 24 hours
Saturday, Nov. 28 — Store is open from 7 a.m. to 11 p.m.
Sunday, Nove. 29 — Store is open from 10 a.m. to 9 p.m.
But you can also score some deals before diving into your Thanksgiving feast. From today till midnight on Nov. 25, you are able to get 30 percent off all online purchases (40 percent if you spend $100 or more.)
Deals
The sales will vary by day and where you decide to shop, but regardles you're bound to save some serious dough.
50 percent off everything in stores on Thursday and Friday
60 percent off select items online on Thursday (an up to 50 percent on everything else)
40 percent off everything in stores on Saturday
30 percent off everything in stores on Sunday
And just wait till you see what Old Navy has in stores (or rather, online) for Cyber Monday.
Images: Old Navy