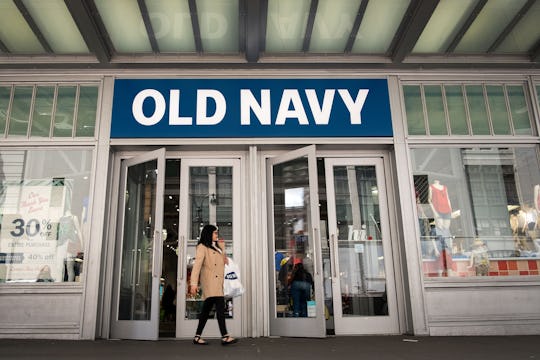 Drew Angerer/Getty Images News/Getty Images
Old Navy's Rockstar Jeans Will Start At $15 For One Day Only, So Get Ready
What do Blake Lively, Rachel Bilson, Chirstina Hendricks, Selita Ebanks, Gina Rodriguez, and Kate Bosworth all have in common? They are huge fans of these cult-favorite jeans. Old Navy's Rockstar jeans will start at $15 for one day only, so get ready to stock up. Are you ready?
Coinciding with daylight saving time, Old Navy is rolling back the price of these coveted jeans from the regular $35 to $45 per pair to $15 for women and $10 for girls on Nov. 4 both online and in-store. Hey, if you gain an hour, you might as well spend it shopping.
Pro tip: If you want to party (ahem, shop) like a real rock star, and live in NYC, you can grab a pair late night because the Times Square Old Navy store is open until 2 a.m., according a press release from the brand.
So what is it about these jeans that make them so amazing?
"The brand's Rockstar jeans are actually very flattering, having just the right amount of stretch in the legs and compression in the booty area," writer Diana Nyguen wrote in an article for E! Online.
They look great dressed down with a simple T-shirt and flats, or dressed up with a blazer and boots. Plus, they come in a variety of skinny styles including low, mid, and high rise. And the variety of hues is on point — from acid wash to deep blue and a slew of other washes in between.
You can grab a pair with ripped knees, frayed ends, or a velvet or sateen finish. The latter of these options are going to make a great addition to your holiday outfit. And with a price point of $15, you can splurge on a few pairs without breaking the bank.
The love for these jeans is strong. Back in 2016, a group of reviewers at BuzzFeed tested out a variety of skinny jeans, and the favorite among the group, hands down, were the Rockstar skinny jeans from Old Navy. Jeans were judged on affordability, durability, fit, cut, and overall look.
"If I'm being 100% honest, I checked myself out in the mirror every time I went to the bathroom, Hannah Georgis, one of the reviewers at BuzzFeed said. "I'm going to swing by Old Navy the next time I need a new pair of jeans to try on the other styles, too. I feel like I could take over the world in these."
Back in 2017, Blakey Lively was spotted in a pair of dark-hued pair Rockstar skinny jeans, a simple white blouse, and strappy sandals, according to the website for Today. And the very next day, Rachel Bilson was spotted wearing a similar pair of these Old Navy favorites while out and about in West Hollywood. Hey, celebs know their fashion and if it's good enough for them, it's good enough for everyone else.
What do fans have to say about rock star jeans? Needless to say, they like these jeans quite a bit.
So mark you calendars, shoppers, and remember, Old Navy's Rockstar jeans will only be on sale for one day. Now that's something worth setting your clock for!