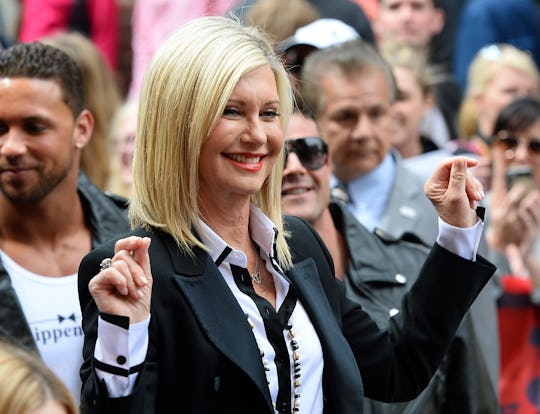 Ethan Miller/Getty Images Entertainment/Getty Images
Olivia Newton-John Reveals Breast Cancer Battle
"Reluctantly" postponing her tour dates for the time being, Olivia Newton-John announced that she has breast cancer in a public Facebook post on Tuesday. "I decided on my direction of therapies after consultation with my doctors and natural therapists and the medical team at my Olivia Newton-John Cancer Wellness and Research Centre in Melbourne, Australia," she shared in the post. Ever-resilient, she's insisted that she's "confident she will be back later in the year, better than ever, to celebrate her shows." Her past certainly shows this; Newton-John's tough, and is ready to fight whatever comes her way.
Sixty-eight-year-old Newton-John had to cancel the earlier part of her tour due to back pain which, she's now revealed, turned out to be breast cancer that has metastasized to the sacrum. But, as mentioned, she has a dedicated team and a thought-out plan. Her anticipated treatments will include natural wellness therapies as well as a short course of photon radiation therapy.
Unfortunately, this isn't her first breast cancer battle; Newton-John has had breast cancer before. In 1992, she survived a fight with the illness, which had a huge impact on her life's perspective. "I think it made me more grateful for every day," she noted back in 2015. "It made me more compassionate for other people going through the same thing, and you realize you are much stronger than you thought you were."
In 2008, she was able to found the Olivia Newton-John Cancer Wellness and Research Centre in her hometown in Australia. "With more and more people affected by cancer every day," Newton-John asserts on the center's website, "I believe we are in a world desperate for healing, and I'm committed to doing whatever I can to help."
The center's website also shares more insight into her previous battle with breast cancer. Newton-John learned of her cancer diagnosis in the very same week that she lost her father to cancer — a devastating blow. In addition to a partial mastectomy, chemotherapy, and breast reconstruction, she also incorporated herbal formulas and meditation into her treatment. Her "dream," she shares, "is that one day the ONJ Centre will be only about Wellness, and we will no longer need cancer centres because cancer will be a thing of the past."
Fans are certainly sad to hear that the LIV ON tour has been cancelled, but without a doubt understand Newton-John's need to focus on her health. The LIV ON album, which addresses her first breast cancer diagnosis as well as other instances of grief, "[is] for anyone facing a time of challenge in their life, whether it is grieving a loss - or on the journey to health and recovery," Newton-John believes. It certainly sounds, then, like LIV ON is the perfect soundtrack for the journey ahead.