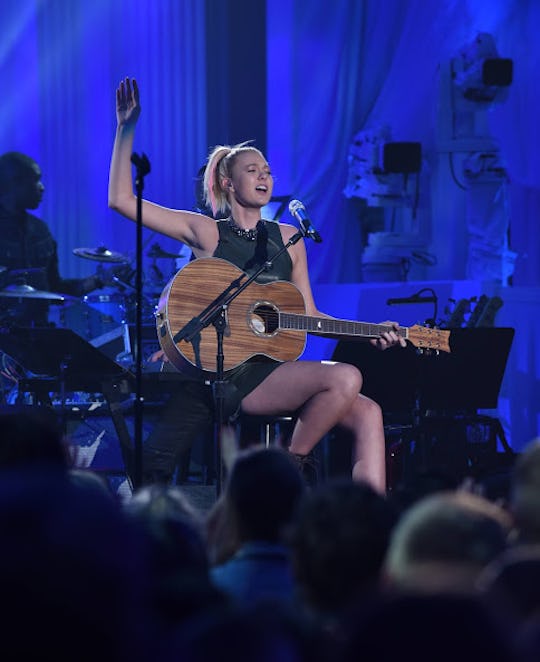 Ray Mickshaw / FOX
Olivia Rox Singing 'Confident' On 'American Idol' This Week Had Everyone Cheering
The Top 24 of American Idol is slowly being narrowed down to the Top 10 and this week the viewers at home got one step closer to seeing who will be a part of that group. The second group of performers in the Top 24 performed a song of their choice tonight with a backing band for the judges and audience at home. Tonight, some performers stuck out more than others and Olivia Rox singing "Confident" on American Idol had everyone cheering — both in the live audience and over on Twitter.
On Thursday, the 12 finalist hopefuls will perform a duet with an Idol alumni from previous seasons of the show, and the judges will determine the final five contestants to join the already-determined five finalists from the previous week to be in the Top 10 of the competition. From there, America will finally have the chance to determine who stays in the competition and who goes home.
Tonight, however, the judges struggled with the song choices that contestants had picked for themselves, deeming the songs unusual choices for highlighting each contestant's talent. That is, except for one contestant, Olivia Rox, who had Twitter abuzz with her stellar performance of Demi Lovato's "Confident."
The 17-year-old student from California started off the song by playing the acoustic guitar but ditching it later on as the backing band kicked in and the song began to pick up tempo. Rox, who was the last of the 12 to perform, ended the show on a high note, receiving praise from the judges. "I thought it was really really strong," Harry Connick Jr. said. "It was so good...you have an amazing gift," judge Keith Urban added.
The judges didn't let Rox off the hook without some constructive criticism. "You have to really get into your iner rock chick... it's the soul of it," said judge Jennifer Lopez. "So if you're going to take on stuff like that make sure it matches how good your voice is."
Twitter fans seemed to agree, taking their opinions to the website immediately following the performance.
Users comments mirrored the judge's, hitting on Rox's strong vocals and personality during her performance.
Rox is no stranger to music — its in her blood. Her dad, Warren Hill, is a famous jazz musician and saxophone player and her mom used to sing alternative rock music. In an interview with Billboard.com, Rox said that she has been on tour with her dad since she was a baby and began writing her own songs as a child.
Rox is confident (no pun intended) in herself and her talent and it shows. All there is to do now is to watch tomorrow and see if the judges put her through to the Top 10. Judging by Twitter's reaction, that shouldn't be a problem.