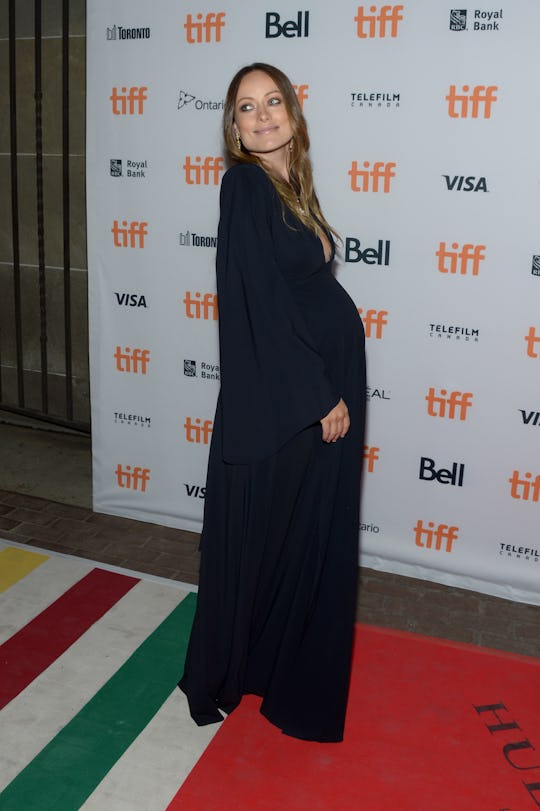 Matt Winkelmeyer/Getty Images Entertainment/Getty Images
Olivia Wilde Bashes Metro Riders Who Don't Give Up Their Seats, Becomes #PregnancyGoals
Anybody who rides public transportation knows that there are certain unspoken rules that must be abided. Don't take up more space than is necessary. Let other passengers get off before trying to push your way on. Keep PDA to a minimum. Wear headphones if you're listening to music. Try to avoid eating anything messy or smelly. However, and arguably most important of all, is able bodied passengers should immediately offer any standing senior citizens or pregnant women their seat. This is a universal common courtesy that, sadly, is often ignored. Olivia Wilde bashed metro riders who don't give up their seats for pregnant women when she experienced this rule-breaking phenomeon, and instantly became #PregnancyGoals.
The 32-year-old actress is currently pregnant with her second child with husband and well-known actor Jason Sudeikis. After hopping on the subway in New York City yesterday, the mom-to-be was left hanging by her fellow passengers. There were no empty seats and nobody kindly offered the visibly pregnant Wilde their seat out of the common courtesy that is simply to be expected. Wilde took to Twitter to call out the seat-hugging train-goers in her signature funny style, writing "NBD, able-bodied subway riders who won't give your seat to a giant preggo. I'll just stand right next to your head and pray I go into labor."
Because the internet has no chill, Wilde received a ton of backlash for her tweet. One twitter user responded passionately, telling Wilde to "get over it" and" stop acting like a baby." Another obtusely wrote that women wanted to be treated like men, but then ask for special treatment. These guys clearly missed Wilde's point by a mile, not to mention their lack of basic understanding about the unspoken rules of public transportation. The outspoken mommy took to Twitter once again to address those hating on her previous tweet, writing "Whoa whoa whoa, it's not about scolding, or celebrity, or who can afford an uber. It's simply about us all looking out for each other."
This isn't the first time Wilde has stood up for mothers. The actress was on the cover of Glamour back in 2015 and she was photographed breastfeeding her infant son. Just like Wilde's tweet, the picture was the subject of internet backlash. It seemed like everybody had an opinion on the photo, a decent amount of them being negative. The actress spoke to HuffPost Live about the controversy stating that she didn't mean to incite an outcry over the photoshoot. She was just simply living her life. "I am a working mother. Shooting a cover shoot for a magazine is work, and during that day my son had to eat, and so I had to feed him." Wilde said of the picture. "I thought, if you're taking a portrait of me, this is part of me."
Wilde announced her second pregnancy on her Instagram account a few months ago. Otis, her son with fellow actor Sudeikis, made an adorable cameo trying to match his mommy's baby bump. Otis is going to become a big brother any day now and this family is somehow going to get even cuter.
Next time you're on the subway, make sure you remember the unspoken rules of public transportation. If a pregnant woman boards your train, don't forget to offer up your seat. It's the right thing to do, of course, but you never know who it might be. Chances are it might just be a famous actress ready to call you out on Twitter.