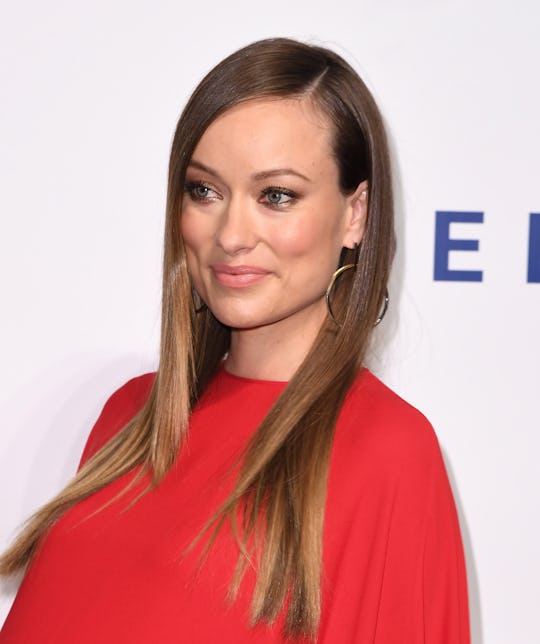 ANGELA WEISS/AFP/Getty Images
Olivia Wilde Reveals Gender Of Her Second Child In A Tweet Supporting Hillary Clinton
With a baby bump that's about to pop in the coming months, Olivia Wilde revealed the gender of her second child and it's definitely going to be a new and fun experience for the growing family. The Vinyl star subtly announced in politically poignant tweet on Saturday that she will soon be welcoming a baby girl to the world with her fiancé Jason Sudeikis. While Wilde has not revealed her due date, the couple's first daughter may arrive just in time to witness this year's presidential election.
The 32-year-old actress announced the exciting news in a caption while sharing a new political ad posted by Clinton's campaign, which highlights her Republican rival Donald Trump and his atrocious track record of degrading comments about women and body image. In other words, she's definitely #WithHer.
"As someone who is about to have a daughter, this hits me deep in my core. #NeverTrump," Wilde tweeted on Saturday.
The video show young girls of all races looking at themselves in the mirror or taking selfies as clips Trump's voice and interviews of the former reality star play in the background. "I would look at her right in that fat, ugly face," Trump can be heard saying, when he was referring to Rosie O'Donnell in 2006. He also said that "a person who is flat-chested, it's very hard to be a 10" and laughed when an interviewer asked if he treats women with respect.
Clinton captioned the video, "When Donald Trump speaks about women, our daughters can hear him."
In an interview with The Daily Beast in April 2015, Wilde spoke about why she is backing Clinton. Mostly because the former Secretary of State knows how to stand up for girls and women.
"The fact that she feels the plight of women and girls as the most important issue of the 21st century is a huge reason why I'm supporting her," Wilde told The Daily Beast in 2015. "I think the equal rights of women in this country is something that's still not a law and she would absolutely be focused on that."
Gender equality has clearly been an important issue to the New York native, as she's been raising her 2-year-old to be a feminist, which she recently revealed in an interview with Yahoo Beauty.
"I like to think he's already a little feminist. And he is," she told Yahoo Beauty in July. "I want to promote the idea that the definition of feminism is equality and it's something that's not difficult to teach children because they are born with that sensibility."
Back in April, Wilde announced she was pregnant with her second child on her Instagram feed and showed off "matching baby bumps," as she put it, with her son Otis in this candid black-and-white photo:
Even before Wilde knew the gender of her bundle of joy, she has been outspoken Clinton supporter. And now that the actress and activist will have a baby girl's future to think about, this year's election just got a bit more personal.