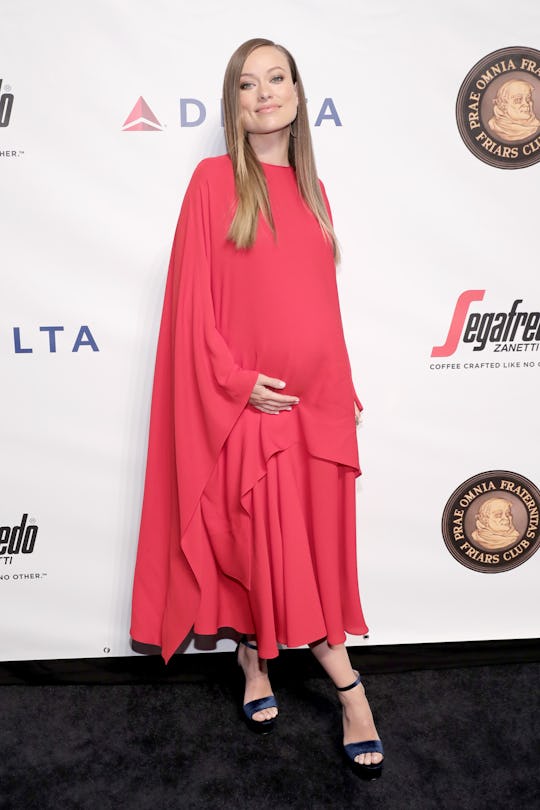 Neilson Barnard/Getty Images Entertainment/Getty Images
Olivia Wilde's Breast Pump Instagram Post Calls Out Ads That Don't Use Real Moms
An unexpected consequence of having a baby in today's online world (or even Googling things about babies) is getting inundated with targeted advertisements for everything from formula, to pacifiers, to breast pumps. Such ads are usually targeted at new parents, but the advertisements themselves don't always do such a great job of reflecting that. Olivia Wilde's breast pump Instagram post calls out ads that don't use real moms, and it brings up some good points about representation.
Wilde welcomed her second child, Daisy, with partner Jason Sudeikis in October. The couple also has a 2-year-old son, Otis, who was born in 2014. Wilde and Sudeikis started dating back in 2011, and got engaged in 2013. In an interview with People, Wilde said that she made the first move on Sudeikis, who she called "charming" and "a good dancer." She also said he was "fantastic with children" and that she couldn't wait to be a parent with him. Fast forward a few years and the couple has two kids together, and Wilde has been open and honest about the experience every step of the way. Whether it meant getting real about post-baby body image issues or talking openly about breastfeeding, Wilde's managed to weigh in on many parenting topics. She's actually posted about breastfeeding on Instagram several times before, including a sweet selfie with Daisy that she captioned "My drinking buddy #neverunderestimateawoman"
In her most recent Instagram post, Wilde shared a photo from an advertisement that popped up when she was shopping online. She wrote in the caption: "Side note: why does Amazon insert breast-pump ads into every single goddamn search I make? I'm no longer in the market for more pump supplies Amazon! Shut it down!" The ad for a breast pumping bra shows a woman who, Wilde pointed out, isn't exactly sporting a typical postpartum body:
Real quick just wanna take a break from online (lazy-person) x mas shopping to call bullshit on this ad for a breast-pump bra cuz this lady definitely did not recently birth a child who requires breastmilk to be pumped. Also want to give a quick cyber hug to this model who had to pretend to have recently birthed a milk-fed baby-child when she clearly has spent the last year lifting tiny weights and meditating.
Wilde noted that she actually owns the bra in the ad and "it's awesome" — and the point she was trying to make wasn't so much about the product or even the brand, but advertising that misses the mark with new moms — especially when it comes to body image.
After the birth of her first child, she wrote an essay for Shape about post-baby body image and pointed out the many ways in which the photos of her in the magazine had been retouched. "I'm softer than I've ever been, including that unfortunate semester in high school when I simultaneously discovered Krispy Kreme and pot," the actress wrote, and reassured readers that she's "a mother, and I look like one."
Wilde's post is a good start to a much-needed conversation about the breadth of pregnancy and postpartum experiences, not just physically but emotionally, too. If brands really want to connect with new parents, they should depict and celebrate the vast array of experiences, rather than try to find one that is representative of everyone. What advertisers, and everyone else, should try to keep in mind is that everyone's life changes after having a baby, but in very different ways, and no one way is the "right" way.