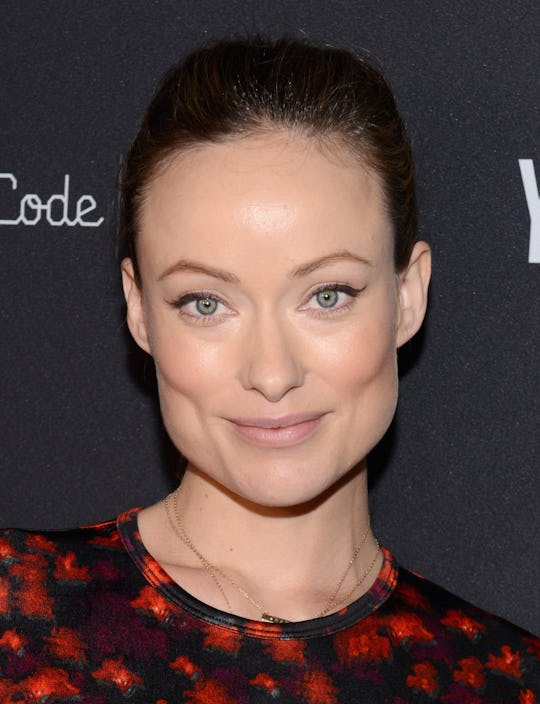 Noam Galai/Getty Images Entertainment/Getty Images
Olivia Wilde's Breast Pumping Instagram Is So Refreshingly Normal
Anyone who has ever used a breast pump can tell you that it's pretty much the most unglamorous thing you can possibly do. It feels totally bizarre to stick your boobs into a contraption designed to squeeze milk out of them, and if you go the electric pump route, well, that can feel downright bovine. But pumping is also necessary for many moms who can't breastfeed directly, and honestly, Olivia Wilde's breast pumping Instagram is so normal and relatable that knowing a famous actress is also stuck squeezing milk out of her own breasts in the most unnatural way possible feels totally validating.
In the photo, Wilde can be seen sitting up in bed holding up the flanges to her breasts, looking like any other pumping mama trying to express milk for her baby. That in an of itself is a totally relatable feeling (and, honestly, not one I necessarily look back on with nostalgia), but a closer look shows that Wilde has taken relatability to the next level after she realized she ran out of milk storage bags while traveling. In a pinch, the actress managed to hook up two mason jars to collect her breastmilk — and she even gave a shout out to the Airbnb owner who hooked her up with them. In other words, Olivia Wilde is all of us.
The caption reads:
Ultimate cliché status reached. Pumping milk into mason jars ✔️. Ran out of storage bags. Rookie move. Big thanks to the plant for really perking up for this photo. Also thanks to the Airbnb owner for the use of said mason jars. #pumped
Wilde became a new mom for the second time in October, according to The Daily Mail, when she and fiancé Jason Sudeikis welcomed their daughter, Daisy. The couple also have a son named Otis, who was born in 2014. Despite being gorgeous and successful and likely having the option to live a totally glam celebrity life if she wanted to, Wilde seems more inclined to live a more down-to-earth existence as a mom, sharing babywearing photos on social media as well as sweet breastfeeding shots and adorable throwback pics with her kids.
All in all, Wilde seems to be one totally blissful mama these days. But motherhood isn't just the only thing she's sharing on social media. The actress has been a vocal supporter of former Secretary of State Hillary Clinton, and posted a variety of photos sharing her stance, while also posting about her huge dislike of President-elect Donald Trump.
Wilde even posted a sweet family shot of her and Sudeikis with Daisy after they voted on Election Day:
But even though Wilde totally seems like the kind of celebrity who would also make an amazing mom BFF, not everyone is on board with her message. When her son, Otis, was 5-months-old, Wilde was featured in Glamour magazine breastfeeding him. The photo is, of course, completely gorgeous: she can be seen sitting in a diner in a designer dress, hair and makeup perfect, looking completely serene and at one with motherhood. Many praised Wilde for the move, and felt it helped to normalize breastfeeding, but others weren't so sure.
In a Los Angeles Times op-ed that ran that month, Susan Rohwer argued that, while photos like Wilde's do help chip away at the stigma of public breastfeeding, the image of the perfectly glam breastfeeding mom feeling totally at ease is a fantasy — and one that is completely out of reach for most women, who receive judgmental comments when they try to breastfeed in public, or who have to struggle to be able to pump breastmilk at work. Rohwer also noted that, while Wilde might make breastfeeding seem like the world's most natural, intuitive thing, for many women, it is something they struggle with significantly, and ignoring that fact contributes to the guilt and shame many mothers feel if they opt to bottle feed their children instead.
Regardless of your thoughts on her breastfeeding photo shoot, there's still no doubt that it is pretty cool to see someone like Wilde post a no-frills photo of herself looking like a totally normal human, pumping breastmilk into borrowed mason jars because she forgot to bring her storage bags (#mombrain, am I right?). Sometimes being a mom can feel so difficult, and like absolutely everyone has it together better than you do. But if someone like Wilde, who presumably has the means to hire help and do whatever else she can do to maintain her sanity, also has these decidedly not picture perfect moments throughout her day, then the rest of us can probably all stand to cut ourselves a little more slack. We are all doing our best, after all.