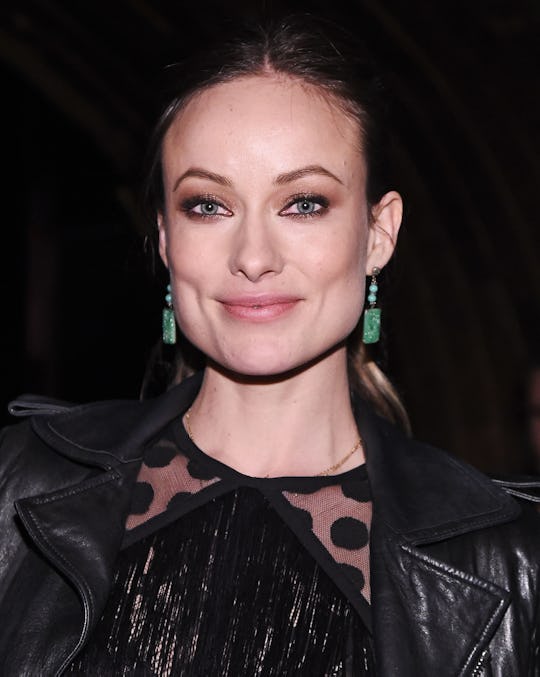 Ilya S. Savenok/Getty Images Entertainment/Getty Images
Olivia Wilde's Breastfeeding Instagram Proves She & Her Family Have 'Cool' Down To An Art
Olivia Wilde and Justin Sudeikis had their second baby earlier this month and so far, they seem to be taking it super easy. They've already been spotted walking to brunch in Brooklyn looking super chill and adorable — but Olivia Wilde's breastfeeding Instagram takes the cute factor to a whole new level. Wilde posted a picture of herself feeding her new daughter, Daisy Josephine, on Monday and captioned it, "My drinking buddy #neverunderestimatethepowerofawoman," a phrase embroidered on Wilde's t-shirt in the photo. The two look like they're already besties, albeit a little tired.
Since her arrival, little Daisy has been a social media queen and a total feminist. First, Wilde announced her gender a month ago in response to an Hillary Clinton ad about Donald Trump's misogyny. "As someone who is about to have a daughter, this hits me deep in my core. #NeverTrump," she Tweeted. Daisy was also born on Oct. 15, which, as Wilde noted on Instagram, is International Day of the Girl. "Like a boss," Wilde joked. In just a week or so, Daisy had become a tiny feminist icon.
But even though the new picture makes breastfeeding look easy and the paparazzi shots of Wilde and her husband are pretty much flawless, the couple is still suffering from the requisite lack of new parent sleep. Wilde even posted a meme on Instagram last week joking about being awake. Like, all the time.
In any case, Wilde and Sudeikis seem to be living in the moment (as far as us mere mortals can see on Instagram). Daisy isn't the only cute kid in the house — her older brother Otis, who's just 2 years old, spent the summer chilling in the pool while his then-pregnant mom and dad floated around on the coolest floats ever.
Over the weekend, the new mom posted another picture of Otis and Sudeikis spending some QT together and she captioned it, "good dudes." And they really are some cool, good looking dudes.
Wilde's husband told People last month that he was digging the co-parenting action — but he gave his partner a lot of the credit. Obviously he wasn't worried about having another child with her. "When I look at Olivia and the way that she pulls off all these things — it's gonna be easy for [Otis] to grow up in a house of love and respect because I feel that way about his mom," he said.
Seriously, I'm not sure this family could get any cooler if they tried, they're #familygoals all around.