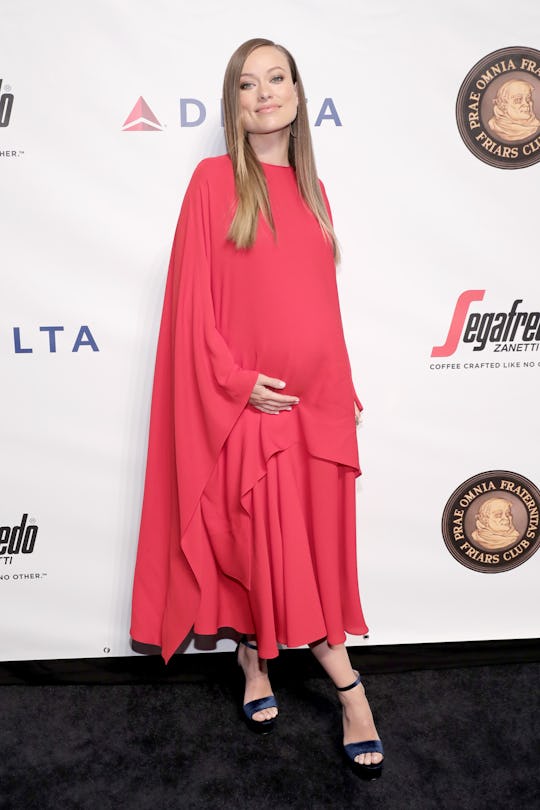 Neilson Barnard/Getty Images Entertainment/Getty Images
Olivia Wilde Posts Adorable Photo Of Daisy
Joining the league of celebrities and other high profile folks who are becoming more openly political and lending their platforms to promoting social change, is actress Olivia Wilde. Wilde, who has a baby daughter, Daisy, with husband Jason Sudeikis, has been very vocal about her opposition to the current political climate in the U.S. Olivia Wilde's Instagram post of Daisy is a really cute shout out to the Women's March (which Wilde participated in), and these days it's nice to have the occasional dose of cute along with our social justice.
Wilde gave birth to Daisy Josephine in October of last year, and the tot joined an older brother, Otis, who was born in 2014. Wilde and Sudeikis made headlines when they told the story of how Daisy threatened to make her entrance early, and forced the couple to miss a Beyoncé concert. Sudeikis told Harry Connick Jr. in an interview last fall that Wilde thought she was going into labor en route to the concert, in the middle of New York City's Lincoln Tunnel. Eventually Daisy calmed down, and ultimately made her debut a week later. "I think she was just fired up," Sudeikis said, according to US magazine. "Just sitting there doing the ['Single Ladies (Put a Ring on It)'] dance, like, 'I know where I'm going!'"
In her most recent Instagram post, Wilde shared an adorable photo of Daisy looking extremely adorable and cozy in booties, a sweater, and knit hat. Wilde captioned the photo with "My wonder woman. #whyimarch" — a sentiment that many parents are probably feeling these days as the future of the nation hangs in the balance.
Wilde was also one of several celebrities to support the Women's March on Washington. She posted a call to action to fans on her Instagram prior to joining the protest herself:
This is a march to show what this nation is actually made of. We are not merely marching to oppose Trump and his twisted vision of what a "great" America looks like, but to put our bodies on the line, and stand up for the values we are simply not willing to compromise. All are welcome. Men included! If you believe women's rights are human rights, this is your march. If you believe in social, racial, environmental, and economic justice, this is your march. Even if you voted for Trump and are now quietly horrified at his broken promises and dangerous rhetoric, you are welcome here, and this is your march too. See you there.
Since the march, Wilde's continued to post messages of support for the cause, including one where she encourages fans to join the ACLU. "My sister was a lawyer for them for several years," Wilde wrote on her Instagram on Monday, "I saw firsthand how hard they work to protect the vulnerable and voiceless."
The ACLU received $24 million in donations over the weekend in the wake of President Trump's executive order regarding a temporary travel ban for anyone trying to enter the U.S. from a Muslim-majority country. The ACLU called the donations "unprecedented"; the amount donated over the weekend was more than six times what they usually receive in a year.