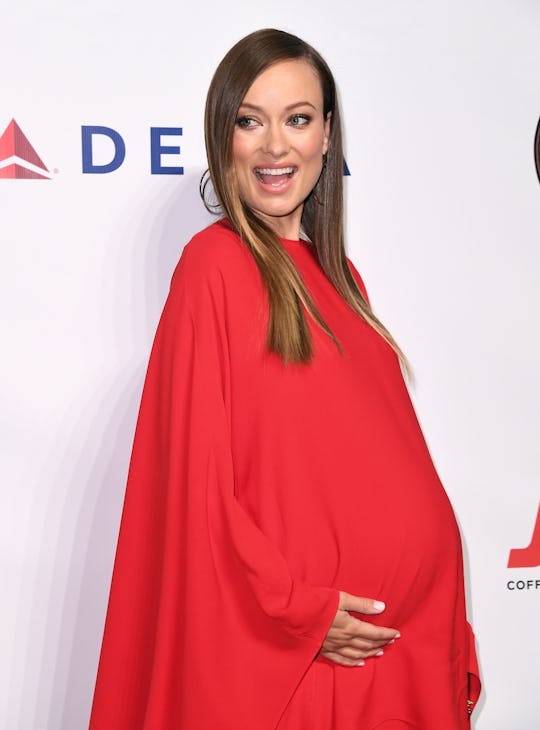 ANGELA WEISS/AFP/Getty Images
Olivia Wilde's Marshmallow Man Instagram Perfectly Captures Life During Late Pregnancy
Turns out, some people do have it all: the smarts, the looks, the talent — and a refreshing sense of humor. Enter Olivia Wilde. The actress, entrepreneur, and expectant mother posted a hilarious Instagram featuring the Marshmallow Man from Ghostbusters, and, according to commenters, it perfectly captures how many pregnant women feel during the later months of their pregnancies. It's not the first time she's employed pregnancy humor, either, according to InStyle.
Monday's Instagram post by Wilde showed the Stay Puft Marshmallow Man from Ghostbusters marching through the streets of New York City, accompanied by the caption, "Me, strolling home last night. #tenthousandmonthspregnant." And at least six months into her second pregnancy, it's safe to assume Wilde is trying to tell us that she feels huge.
Wilde is known outside of her acting career in large part because of her humorous personality. In the last few months alone, she's been more real and hilarious about pregnancy than anyone would have expected. Wilde has joked about pregnancy style on Instagram, calling her own maternity style "old time-y circus tent." She also called herself and fellow pregnant actress Emily Blunt "breeders."
Then there was the time that Wilde appeared onstage at the Global Citizen Festival in September, and she said the crowd was so crazy that she thought people in the front row might have to "catch (her) baby." The actress has also referred to herself as a "knocked up mama." Clearly, Wilde knows how to make light of an intense, sometimes difficult ordeal.
Wilde announced in April that she was expecting her second child, a girl, with partner Jason Sudeikis. The couple are already parents to one son, Otis Alexander, who is 2 years old, according to People. Sudeikis, 40, and Wilde, 32, began dating in late 2011 and became engaged in 2013. They have not gotten married yet.
In April of 2016, Sudeikis was asked when he and Wilde would marry, and his response tells us Wilde isn't the only funny one in the pairing. According to E! News, Sudeikis responded by saying people shouldn't be concerned about his marriage, and that the couple is already married in many ways. Then, he said this:
I believe that we won't get married until weed is legal in every state.
His statement is a play on a statement made by America's favorite ex-couple, Brad Pitt and Angelina Jolie. In 2006, Pitt said that he and Jolie will "consider tying the knot when everyone else in the country who wants to be married is legally able," according to TIME.
Pitt and Jolie didn't live up to their promise of waiting until marriage equality was upheld across the country, so maybe Sudeikis and Wilde won't live up to their promise of waiting until weed is legal in every state. They'd probably be waiting for a long time. Until then, best wishes to Wilde as she awaits her second baby — and keeps it real on Instagram along the way.