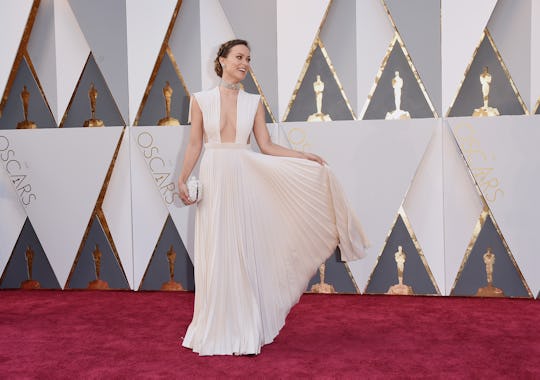 Jason Merritt/Getty Images Entertainment/Getty Images
Olivia Wilde's Oscars Dress Was Simply Stunning
Actress Olivia Wilde lit up the red carpet early during the Oscars on Sunday, where the documentary she had produced, Body Team 12, was nominated for Best Documentary, Short Subject. Olivia Wilde's Oscars dress was a stunning pleated Valentino Haute Couture, and she paired the low-cut piece with a choker and small clutch. Her make-up was simple, and she wore her hair pulled back, which complimented the elegant dress perfectly.
Of course, her attire wasn't the only thing attracting attention on Sunday night. Wilde spoke to Forbes about Body Team 12 last year, saying, "I think this film is an extraordinary portrait of real heroism. I hope people recognize that without the efforts of the community health workers and body teams in West Africa we very likely would be dealing with Ebola on our front door." Wilde originally met director David Darg and co-producer Bryn Mooser while she was doing aid work in Haiti after the 2010 earthquake, according to Forbes. Since then, Darg, Wilde, and Mooser have worked on four documentaries together, all which debuted at Tribeca.
Regardless, though, Wilde's gorgeous gown still managed to steal some of the spotlight. The actress showed up on the red carpet with her fiancé, actor and comedian Jason Sudeikis, who recently starred in Race. The two posed for solo shots and a few pictures as a couple, which were ridiculously cute.
Sudeikis and Wilde posed for a playful shot, as well. Nobody seems sure whether the two are married or not, since they continue to deny marriage rumors, but have (confusingly) referred to each other as married before. With Wilde's white dress and Sudeikis' suit and bow tie, the world will just have to imagine their wedding for now.
Wilde always looks gorgeous on the red carpet — and it looks like this year was another win for her.