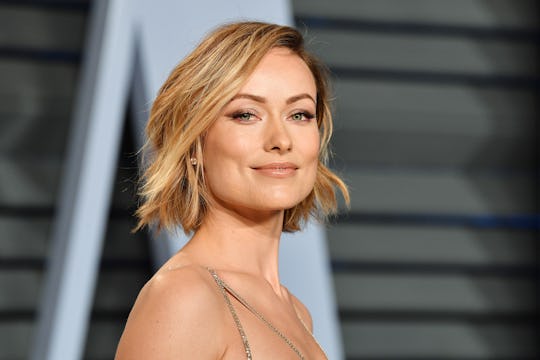 Dia Dipasupil/Getty Images Entertainment/Getty Images
Olivia Wilde Isn't Afraid To Tell You About Her 'Bad' Parenting Days
Every parent has those days; you know the ones. The days when nothing is going right and all your patience goes out the door. Even picture perfect celebrity moms have those days, it seems. Olivia Wilde's story about a day she "sucked at parenting" will sound pretty familiar to anyone who has reached their breaking point, but kept on keeping on nonetheless. Because that's what parents do, they persevere.
During a recent interview with E! News, Wilde explained that parents should be honest about their mistakes and willing to discuss them with others. The power of storytelling can get parents through the hard times. "I think that I find great comfort in sharing stories with other parents," she told E!. "When you realize that Serena Williams is having just as hard of a time traveling with her toddler as I am, that makes me feel better. When I read that, I think, 'Well, maybe it's helpful if I share a story of having a really hard day with my kids.'"
The story that she had in mind was a time two years ago while traveling with her kids. Feeling out of control and "just a mess," she decided to share her frustration on Twitter. "Anyone else suck at parenting today?" she wrote, and her followers shared words of support and stories of their own tough times. "It was amazing because I got, like, thousands of stories of like, 'Yes I am, and this is how I'm dealing with it,'" Wilde said.
Along with the importance of sharing stories, Wilde also talked with E! about how she and husband Jason Sudeikis parent their two children, 4-year-old Otis Alexander and 1-year-old Daisy Josephine. She and Sudeikis try to talk with their children through storytelling about the importance of sharing, as well as other heavier subjects, like gender politics:
The amazing thing about siblings is that it's learning to share from a young age. And, I think, something that's really important that's happening to my son is he's spent two and a half years as the only child and there's this new person ... If we can start at a very young age with storytelling that builds a foundation of responsibility and love, that is the most important thing we can do.
She explained the power of storytelling at a recent United Nations panel on sustainability, as well, according to Daily Mail UK. Through stories, such as those about Thomas the Tank Engine, Wilde believes that just about anything can be made accessible for children, even those topics that are sometimes hard for adults to grasp:
By telling children stories about engines who feel no difference between their genders, who feel a responsibility to the environment, who are excited about education, we are teaching them important values that should be instilled at an early age
Along the with the tools she arms herself with, like shared experiences and storytelling, Wilde has often opened about about the struggles of parenting. In a 2016 interview with People, she talked about the reality of breastfeeding and the difficulty that comes along with it:
It should be a choice for everyone. I don't like the idea of breastfeeding being forced on anyone or anyone feeling guilty. [Breastfeeding] is not easy — it's messy. Like 90 percent of the time you are soaked in milk. It is a difficult thing. But it is, personally for me, a great experience.
Being a parent is beautiful and wonderful and terrifying and hard as hell. But, as Wilde has shown, being open and honest, as well as making the most of the resources available, can only help.