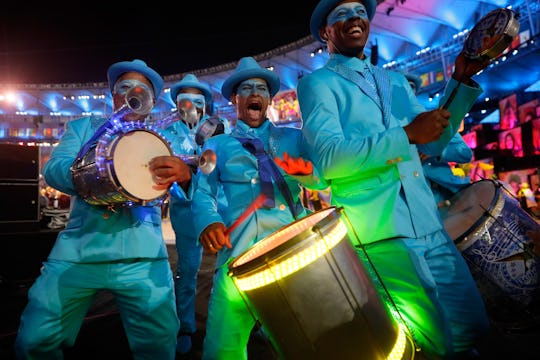 Jamie Squire/Getty Images Sport/Getty Images
Olympics Announcer Called Brazilians 'Cultural Cannibals' & Twitter Is Not Happy
During the NBC telecast of the opening ceremonies in Rio, an Olympics announcer called Brazilians "cultural cannibals" referring to the country's diverse musical origins. The remark was horrifically tone-deaf, especially considering how much of the opening ceremonies was dedicated to underscoring Brazil's tense racial climate and history of slavery. Thankfully, Twitter was on hand to check Meredith Vieira, who made the faux pas.
The comment came during a segment of the show in which the favelas of Brazil — its urban slums — were highlighted as the rich breeding ground for Brazilian culture, arts, music, and dance. The scene featured Brazilian street dancers breaking it down in a brightly colored, multi-level boxes, which reflect the way favela buildings appear stacked in Rio, thanks to the city's topography.
Vieira said in a voiceover:
"You know, the [show's] creator said something interesting about the people here, that they're cultural cannibals. They take the music from all over the world and they make it their own. Distinctly Brazilian."
Uh, what filmmaker Daniela Thomas actually said about the piece was:
"I've made many films that involve my living and going into favelas and talking to the people. I've never seen such creativity. It's really overwhelming. But the opportunity is the opposite. It's a combination of incredible creativity and very very little opportunity. And we pay homage to this creativity here, because the music that you will hear is all originated in the poorest districts, the poorest neighborhoods of Brazil."
Thomas was making a point about how the melting pot of Brazilian culture stems from immigrants who come to Brazil and inevitably wind up its poorest citizens, living in favelas, and blending their cultures to create something "distinctly Brazilian." Of course, the comment didn't go unnoticed by viewers, who promptly took to Twitter to voice how inappropriate it was for Vieira to invoke cannibalism while talking about Afro-Brazilian neighborhoods.
The phrase "cultural cannibals" seemed ad libbed on Vieira's part, though it's possible she had a prompt to discuss this element of Thomas' remarks. It's a rather glossed-over tone when discussing a horrifying history of slavery, meanwhile cheerfully referring to the Portuguese colonization of Brazil as "immigration." But it's clear that referring to the people of low-income, racially oppressed areas of Rio as "cannibals" was a step way, way too far.