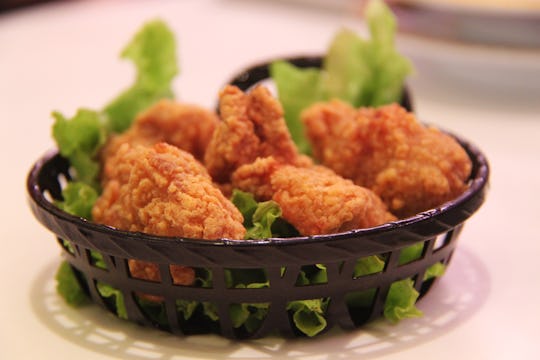 Pixabay
OMG, There's An Entire Chicken Nugget Restaurant & We Need To Go There Now
You're definitely going to want to sit down for this one. An entire chicken nugget restaurant just opened in Sebastopol, Calif, and you're probably going to want to gather your family and head there right this very minute. It's not often that you and your kids can agree on a restaurant, ammirite? Of course, chicken nuggets have a pretty childish reputation (what kind of meat is that anyway?), but that's sort of the whole point of Kitchen, which is a tasting room of all different kinds of nuggets. Like, you can get a flight of chicken nuggets.
What's to complain about that? And these aren't just silly hipsters trying to sell you overpriced breaded bits of delicious chicken and dipping sauces. The owners are Jennifer Johnson, who was a chef for decades at the storied Chez Panisse and her wife and business partner Serafina Palandech and they know what they're doing when it comes to running restaurants and feeding the masses.
The couple also owns Hip Chick Farms, which makes "farm to freezer" products like sausage patties and tandoori meatballs made with only the best ingredients. Which means you don't have to worry about what's in your chicken nuggets at Kitchen.
Palandech said the whole point is to take "something that's not considered healthy and making it beautiful." If that means small children happily, quietly, dipping their chicken nuggets into honey BBQ sauce, so be it.
At Kitchen you can order nuggets in three flavors: Maple, ketchup and original, all of them season with salt paprika and other spices. Do those flavors sound weird? That's the Hip Chick Farms secret — the nuggets don't need sauce since they're cooked into the nuggets themselves. Kinda cool, right? Although don't freak out. Of course they have some homemade sauces for dipping at the all-chicken nuggets, all the time restaurant.
The whole philosophy behind the Kitchen and Hip Chick nuggets is complete transparency. "This is organic for the 99 percent," Palandech told The Washington Post. She's got a good point: There's is nothing snooty about chicken nuggets and frozen patties. But you can make them semi-healthy.
According to the Hip Chick website the chicken and turkey in all of their products is:
Humanely certified, free range, natural and organic poultry that are raised without antibiotics or added hormones. The organic product is non-GMO. All of the chickens and turkey are fed a high quality, vegetable diet and grow naturally with plenty of room.
If you can't make it to California for a flight of nuggets, you can always try the frozen version sold by Hip Chick in 5,000 stores across the country.
It's not a bad mission. Especially since we all love chicken nuggets so much. People literally go crazy for them. There are stories all of the time about people flipping for the good stuff. Like Carter Wilkerson, the teen who tweeted at Wendy's asking what he had to do to get free nuggets. When the fast food chain responded with a flat number, 18 million, the entire social network banded together to make that happen.
Eventually, his tweet was retweeted so many times that it broke Ellen DeGeneres' Oscar selfie record as the most retweeted tweet ever. Wendy's eventually responded with a certificate for free nuggets for Wilkenson and donated $100,000 to the Dave Thomas Foundation for Adoption, a charity that finds permanent homes for kids in foster care.
Wilkenson's told People at the time that it was all meant to be a joke. He said, "I sent out the tweet as a joke, but then they responded with the outrageous number. I thought [it] would be funny among my friend group."
But when it comes to chicken nuggets, it's always serious business. So if you're already booking plane tickets to head to the chicken nugget tasting room in California, who's to judge?