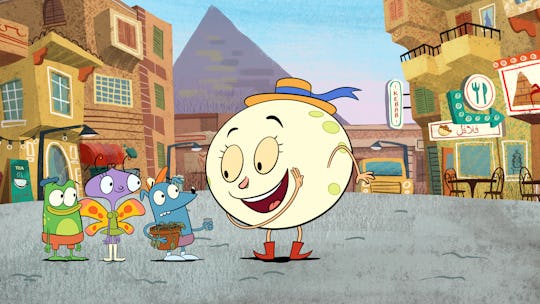 Matt Lorenz/PBS
'Let's Go Luna' Is Important To Judy Greer For A Very Special Reason
On the PBS series Let's Go Luna!, an anthropomorphic moon accompanies three animal pals on a world tour. With Luna's help, Leo the wombat, Carmen the butterfly, and Andy the frog learn all about the local culture and language in every place they visit. The mix of education and entertainment is what PBS is known for, and it's something that's especially important to the show's lead voice actress. In this exclusive clip, Judy Greer from Let's Go Luna! is learning a lot, too. And according to her, PBS has always been significant to her for that reason.
Let's Go Luna! premieres on PBS on Nov. 21, with Greer voicing the titular moon. In the clip, she explains that the show is about "some kids who travel around the world and everywhere they go, Luna — the moon — is there to show them about the place, the town, the people, the customs, the food." Luna does it all with complete enthusiasm, immersing herself in whatever she's doing — whether she's doing the can-can or serving up local cuisine.
The lessons she passes on can be illuminating for Greer as well. "I learn a lot doing the show," she says. "And it's always fun to see what places we're visiting, and what we're going to be singing about and talking about."
Scenes from the show are interspersed throughout Greer's interview, but the clip also includes shots of her in the recording booth as she delivers her lines. Some of Luna's informative tips are shared, like the reason why moon cakes are shaped the way they are (which Luna should know, for obvious reasons). PBS has been providing educational (but still fun) television for kids for decades, which was one reason why taking part in Let's Go Luna! was such an honor for Greer.
The network has been a part of her life since she was just a kid herself, so this job seems to be a perfect match. "Working on a PBS kids' show... It's one of those pinch-me moments," Greer says. "Because my whole life I've been watching PBS and PBS was my teacher and my friend and my mentor growing up. Now I'm on a kids' show on PBS that's gonna do for kids what shows in the past have done for me. It's really special."
The media you consume as a kid can stick with you for years, as Greer proved when discussing the impact PBS had on her personally. According to the press release for Let's Go Luna!, the characters will be traveling to cities like London, Cairo, and Beijing. Along the way, Vice President Linda Simensky notes that the show "gives children a vibrant introduction to some of the most interesting aspects of life around the globe, helping them appreciate what may be the same, and what may be different, about people's everyday lives."
The show encourages children to be curious about the world they live in. While Luna's factoids are sure to be enlightening, she's also imparting the greater lesson of being interested in and respectful of other countries and cultures. And that's definitely important.