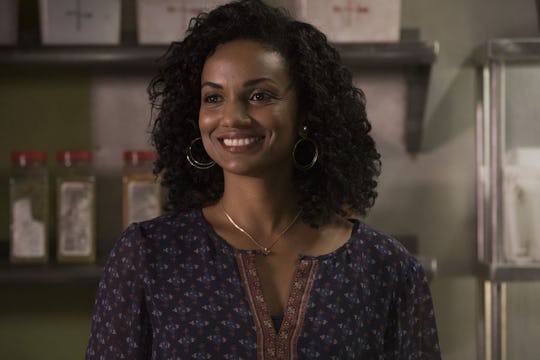 Jack Rowand/ABC
'Once Upon A Time's Princess Tiana Is The Feminist Hero Your Kids Need
When it was announced that Princess Tiana was joining Once Upon a Time for its seventh season, many people were excited, and why wouldn't they be? Besides the fact that Tiana is the first black Disney princess, she's also inspiring to many because of her courage and determination to follow her dreams. On the show, Tiana's backstory may be slightly different, but Once Upon a Time's Princess Tiana is a feminist hero, even more so now than ever before. In an interview with Romper, actress Mekia Cox opened up about why it was so important for her to play Tiana and what she hopes viewers will gain from seeing her story.
While Tiana is still a princess on OUAT, her title doesn't come through marrying a prince. In fact, Prince Naveen isn't even on the show, at least not right now. Instead, Tiana's royal title comes through her father, who became a prince after helping win a war and being given a Firefly Ruby. Therefore, in the world of OUAT, Tiana is a princess in her own right. Additionally, she also steps away from her royal title a bit in the show, and instead focuses on a bigger cause, which is something Cox really admired.
"My character comes from this world of royalty, [but] it's been taken away from her and she realizes what's really important, and it's not having material things," Cox explains. "It's being able to help others, and once she realizes that's her true cause, she becomes the leader of this Resistance." The Resistance is against Lady Tremaine, Cinderella's stepmother, who is ruining a number of people's lives in the Enchanted Forest.
While the typical job of a princess used to be to serve as a damsel in distress, in need of a brave prince to rescue her, Tiana is a princess who doesn't need saving and works to save herself, which is a refreshingly recurring theme for many of the other female characters on this show. Cox hopes that this message of "female strength" really shines through on the series and resonates with young viewers, especially.
But while Tiana is definitely a fiercely independent character, that doesn't mean she works alone. One of the greatest parts of this season has been seeing Tiana and Cinderella — as well as their Hyperion Heights counterparts Sabine and Jacinda — constantly support and empower one another. "It's nice to sort of have this best friend dynamic on the show because we, as women, all experience it," Cox says. "We all know what that is and we know how important that is to our lives... When one person has fallen, you need someone to pick you up and that usually ends up being your best friend. That's the dynamic between Tiana and Cinderella."
It's always great to see women, particularly women of color, supporting other women onscreen, and this friendship has definitely become one of the highlights on the season. But the one thing that really drew Cox to the role, it was the opportunity to portray a character who continues to be a source of representation for young, black girls. When she was just seven years old, Cox got her first professional job working at Disney World and dreamed of one day getting cast to play a Disney princess. The only problem was that no Disney princesses of color existed back then.
"Once the movie came out in 2009, I was excited because I knew there were little girls out there who had the same dream as I did that would actually see their dreams come true," Cox recalls. "I never thought that [character] would be me. So when I was told I would be playing Tiana, I was very, very happy."
And it's a role that Cox seems born to play. It's so important to see characters like Princess Tiana getting the representation they deserve. And thanks to shows like Once Upon a Time, princesses are no longer being associated with terms like "weak" or "helpless." They are proving to be just as capable of saving the day as any knight in shining armor. And if that isn't a great message to be sending to the next generation of kids, then I don't know what is.
You can learn more about what's next for Tiana, and Sabine, when Once Upon a Time airs this Friday at 8 p.m. EST on ABC.