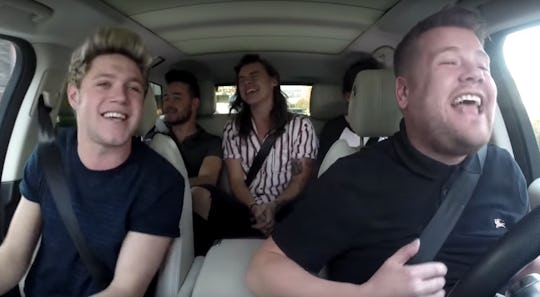 One Direction Did Carpool Karaoke With James Corden, & I Have Some Questions
Directioners rejoice! One Direction did Carpool Karaoke with James Corden, and it's got everything you could hope for: awkward choreography, harmonizing, and matching denim shirts. The video is the latest installment of the Carpool Karaoke Series on The Late Late Show with James Corden. Stars including Justin Bieber, Carrie Underwood, and Stevie Wonder have jumped into the passenger seat of Corden's car to sing through their top hits. The eagerly-anticipated 1D edition was a trending topic on Twitter Tuesday morning, and with good reason: hearing the band belt their biggest songs while belted into a car with Corden is seriously delightful and genuinely funny.
One Direction released their newest album, Made in the A.M., in November; it's their first without Zayn Malik. While fans are feeling the new music, Carpool Karaoke is packed with old favorites, from "Story of My Life" to "Best Song Ever." James Corden makes everyone fabulously comfortable, even directing a music video from the driver's seat.
1D's turn at Carpool Karaoke was fantastic, but we do have some questions:
Where did Niall and James get those casually excellent dance moves?
They are all of us when "What Makes You Beautiful" comes on.
Did this woman get her selfie?
Harry told her to put her hands on the wheel. She did not.
Why is everyone mad at Liam?
Harmonizing is hard, guys.
How did James Corden hit that killer high note during "Best Song Ever"?
James Corden is basically the fifth member of One Direction at this point.
When did Harry pick up his soft drink?
Why didn't they take us to the drive-thru?
How did matching outfits not happen sooner?
Denim shirts are always the best idea. One last question: Can this please happen again?
Watch the full 1D Carpool Karaoke extravaganza below:
Images: The Late Late Show With James Corden/Youtube; Giphy.com(1, 2, 3, 4, 5, 6)