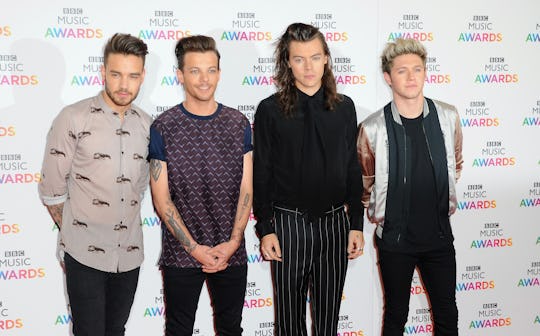 Eamonn M. McCormack/Getty Images
One Direction Is Officially Breaking Up & Fans Are Reacting Exactly How You'd Expect
Can you hear that noise? It's the collective sound of a million 13-year-old girls' hearts breaking. Following the news today that One Direction was officially breaking up, fans reacted on social media pretty predictably. By Wednesday afternoon, Us Weekly revealed that a source very close to the British boy band had confirmed the official split.
Tweens (and non-tweens, you know who you are) were anxiously awaiting for the band to get back together after they made an announcement this past August that they were going on a hiatus. And fans had every reason to hold out, as group members told Entertainment Tonight as recently as November that One Direction was not splitting up. No way, no how. In a comment to ET, Horan explained, "We're not breaking up. We're literally taking time out to see our friends and see our family and reflect on what we've done over the last few years."
Even Harry Styles swore up and down in that exclusive interview that the group was staying together, remarking,
I think it's important for us to take the break and have it as a break. Obviously it would be naive of us to think that people aren't going to read into that in a ton of different ways, but we're just gonna take a little break next year.
Let this be a life lesson for Directioners: when someone says they want a "break," it usually means it's totally over. Cue wistful sighs of hopeless romantics everywhere.
Twitter obviously blew up as the news broke, with all seven stages of grief popping up at once. It was terrible.
Disbelief
Denial
Bargaining
Guilt
Actually, while no fan is taking responsibility for the demise of One Direction, they do blame Zayn, who left last spring. So maybe this is more "secondhand guilt" than anything else. Okay, scratch that — let's just call it "rage":
Anger
Depression
Hope
Oh, Directioners, it can be hard to accept the ending of something that was so good. All anyone can wish for now is an official statement from the band to end the torment that is waiting (or not waiting) for your favorite boy band to break up. In the meantime, it's okay if you feel a little betrayed.
Image: Eamonn M. McCormack/Getty Images; Giphy (2)