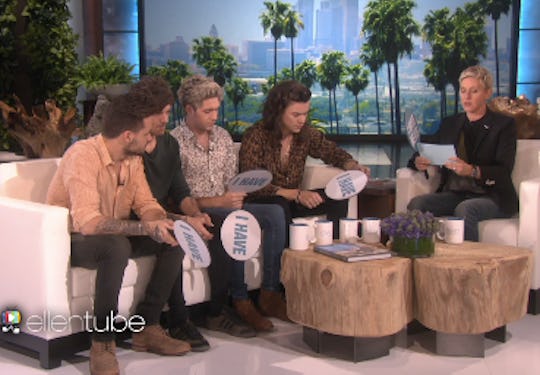 The Ellen Degeneres Show/YouTube
One Direction Plays "Never Have I Ever" With Ellen & The Results Are Hilarious
I'll admit it: I don't know much about One Direction. (I know, I know. I live in a cave, and I'm old — my "boy band" days ended with N'Sync, Backstreet Boys, and New Kids On The Block.) But after watching their most recent interview on The Ellen DeGeneres Show, I feel like I know these four young men better than I probably should. You see, on Tuesday, One Direction played "Never Have I Ever" with Ellen, and their answers — which covered everything from dating and "sexting" to pretending to be Nick Carter — were both revealing and hilarious.
Here are some of the highlights/spoilers: Liam Payne and Harry Styles admitted they have tattoos they regret, Louis Tomlinson and Niall Horan admitted to using their band mates toothbrush (gross!), and it would seem everyone but Payne has gone skinny dipping in a hotel pool. (What are these guys doing skinny dipping without me?)
Payne and Styles also admitted to hooking up with someone twice their age, and Styles alone revealed that he's hooked up with a fan in the past — and the audience went wild. Catch the entire video below:
Unsurprisingly this "game" is currently breaking the Internet:
If you want to catch the interview in full, set your DVRs or tune in later today — it's set to air on Ellen at 4 p.m. EST (Wednesday, November 18).
Image: The Ellen Degeneres Show/YouTube