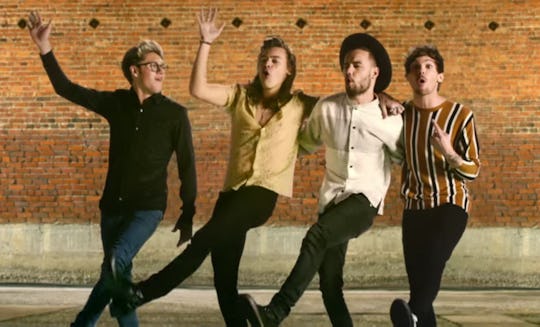 One Direction's 'History' Music Video Is Making Fans Very Emotional — VIDEO
It's a delightful day for Directioners. Though the band is on hiatus, One Direction released a music video for "History" that is sending fans into nostalgic happy tears. According to Rolling Stone, the video gives fans a visual history of the band, from when it started out on The X-Factor to performances in front of thousands.
"History" serves as a tribute to the band's history and a celebration of their supporters. Liam Payne told Entertainment Weekly that had the idea to let fans sing the chorus in honor of their connection to the band:
It's really great because obviously that song is mainly about the fans and what they've done; I think it was important that they were a part of it, to close the album.
"History" debuted in November shortly before One Direction released its album, Made in the A.M. According to Entertainment Weekly, Payne described "History" it as an updated "You've Got a Friend in Me" fueled by the idea of providing "closure" to fans upset by the band's decision to take a break. The video includes footage of all five members of One Direction, including Zayn Malik. Though the group's hiatus seemed to coincide with Malik's decision to leave, the BBC reported that One Direction's break had already been planned. It appeared as though members may use the time off to work on solo projects, but Louis Tomlinson told Entertainment Weekly that One Direction's break is essential to recover from five intense years in the spotlight:
Five years, five albums, four tours … I'm sure it appears alarming when we say we're going on a break, but in reality, it's such a normal thing. If you look at other bands and other artists, they [go on breaks] all the time. It really isn't as big and dramatic as it's been made out, but our intention and our love is for the band and that's always going to be the case.
Whether they're a believer in One Direction's eventual return or skeptical of what's ahead, fans are still fawning over the "History" video:
The reaction may sound strong, but it's unsurprising. The video plays into every bit of nostalgic energy built up during the band's break, and it yields plenty of beautiful, emotional, GIFable moments.
The video shows a clip from The X-Factor when the boys become a band:
There's plenty of footage of the guys goofing around:
And you'll see a surprising amount of Zayn Malick:
Plus lots of brotherly love:
Fans might even see themselves in the crowd at a One Direction show:
And of course, there's fabulous dancing:
Never change, guys.
The full video requires a box of tissues.
Images: One Direction Vevo/YouTube; imgflip(1, 2, 3, 4, 5, 6, 7)