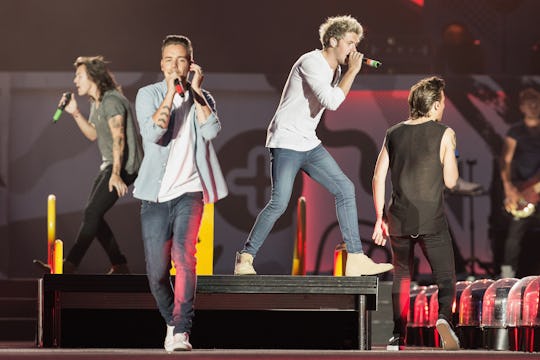 Mat Hayward/Getty Images
One Direction's New Album 'Made In The A.M.' Was Just Released, & Pretty Much Everyone Is Loving It So Far
It's a good day for pop music fans: Not only has Justin Bieber's long-awaited album, Purpose been released, but One Direction's new album Made In The A.M. also dropped today — their first Zayn-less album. Naturally, we all had lots of questions leading up to the release: What will it sound like? Will they still be amazing now that they're down one member? And, most importantly, will it be their last album ever now that they'll be taking an indefinite hiatus (SOBBBB)? While we'll probably just have to wait and see to get an answer to that last question, so far, it sounds like Made In The A.M. is classic 1D perfection, but to be honest, were you really expecting anything less? Swoony ballads, catchy pop tunes — pretty much everything we want to hear from the guys before they ride off into the sunset.
But old-school album reviews are totally not as fun (or as deliciously subjective) as the endless Twitter fan endorsements reviewing (and praising, natch) the album in 140 character or less. One Direction's fans have major feelings about their favorite band in general, and a pre-hiatus album launch? Well that is definitely a big deal. So I scoured social media according to the most popular 1D hashtags — like #madeintheam, #FR1DAY13BR, and #omggggharrystylezzzzz (OK, I made that one up) — to see what Directioners have to say about this new release.
Fans Are In Love, Obviously
But It Looks Like It's Not Only Directioners Who Love The Album
And, Of Course, There Are Plenty Of Fans Who Never Doubted Them
Congrats, One Direction. Pretty sure you've won Twitter this morning.
Image: Mat Hayward/Getty Images