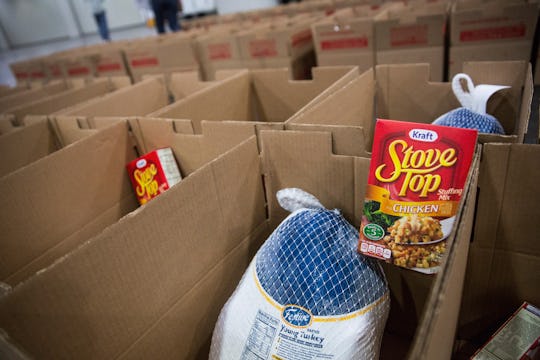 Andrew Burton/Getty Images News/Getty Images
One Mom Is Using Coupons To Feed 30 Thousand People & To Address to Homelessness
Turning 30 is often a point of reflection. For some, hitting 30 represents hitting the deadline to accomplish personal goals: from earning that promotion to getting married. But one mom set an amazing and selfless goal for her 30th birthday: to deliver 30,000 meals to the homeless and hungry. Lauren Puryear is using coupons to feed 30,000 people, and hopefully her story will bring attention to the very serious issue of homelessness affecting this country.
Puryear, who lives in New Jersey, is a mental health clinician and mom to a 5-year-old son. While working full time and raising a child would keep most people busy, Puryear dedicates five to 10 hours a week looking for coupons.
"Couponing can take a lot of my time depending on what items I am trying to get," Puryear said in an interview with Babble. "I can spend a few minutes or half of the day couponing. [But] I realized that couponing would make a difference when I was able to feed 500 people by spending less than $50."
Puryear discussed her first couponing experience with ABC News:
[It] was canned vegetables. I was able to get them for four cents a can at Dollar General so I bought 420 cans and I added chicken and rice to that meal. I figured if I could coupon for the vegetables I could coupon for everything.
In 2012, she started For The Love of Others, which was inspired by Puryear's grandmother, who "was willing to give her last to help someone in need until her last dying day," according to the organization's website.
Puryear told ABC News she has fed more than 5,000 people since she started couponing just eight months ago, in areas such as New Jersey, Washington, D.C., and Baltimore. She hasn't accomplished this feat alone: she says that friends and family help her transport food and find coupon circulars.
For those of you who are interested in starting to coupon, whether for yourself or to donate, there are many websites that offer great tips for beginners. The Krazy Coupon Lady suggests that a great way to start off is to simply plan your meals based on what's on sale, and shopping around at different stores to save the most money. The site also recommends combining coupons with a sale for maximum discounts, and to organize coupons by date and category in files or binders.
Puryear gave some advice about couponing to NJ.com:
There are coupons in the Sunday paper, or online that you can print ... so I collect as many as I can, match them to the store and that is how I am able to get the items for free.
Some people may not enjoy the time and leg work, but I personally find it's worth the effort - I don't mind going to two or three grocery stores to save money, and I can't count how many toothpastes and deodorants I've gotten for free because I used a $1 off coupon when these products were on sale for a $1.
Puryear's story isn't just important because she's feeding the hungry, but because she can inspire others to start buying food cheaply to give to those in need. Homelessness in the United States is a huge issue that needs to be addressed — on just one night in January 2015, there were 564,708 homeless people in the country, The National Alliance to End Homelessness reported.
"I want the world to know that my efforts to feed the hungry just touch the surface of the bigger issue, which is poverty and homelessness in America," she told Babble. "I want to bring awareness to these issues in hopes of finding a resolution."