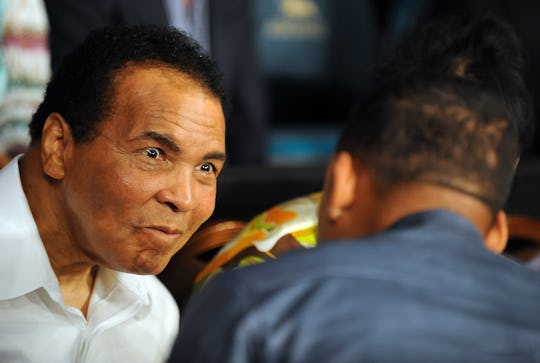 GABRIEL BOUYS/AFP/Getty Images
One Muhammad Ali Quote That Proves The Athlete Knew No Limitations
On Friday, June 3, a spokesperson for the Ali family announced that famed boxer and all around legend, Muhammad Ali, had died. The boxer was 74, and had recently been admitted into the hospital where he spent a few days battling "respiratory complications," according to the spokesperson. With his passing, many fans of the legend have spoken out to show their love for a man who changed athletics completely. There's no doubt fans will be rereading some of Ali's most influential quotes after his passing, but this one Muhammad Ali quote truly proves how the athlete new absolutely no limitations.
Impossible is just a big word thrown around by small men who find it easier to live in the world they've been given than to explore the power they have to change it. Impossible is not a fact. It's an opinion. Impossible is not a declaration. It's a dare. Impossible is potential. Impossible is temporary. Impossible is nothing.
On June 3, Bob Gunnell, a spokesperson for the Ali family, told NBC News that "After a 32-year battle with Parkinson's disease, Muhammad Ali has passed away at the age of 74. The three-time World Heavyweight Champion boxer died this evening." The news was shocking, and shook many people who loved the athlete.
Ali is known for a lot of famous quotes, but this quote might be one of the more powerful ones to examine following the athlete's death. The athlete spent almost half of his life battling Parkinson's, which is a progressive neurological condition that affects movement, which, Ali was famously known for. Ali was known to be extremely quick in the boxing ring, once saying "I'm so fast that last night I turned off the light switch in my hotel room and was in bed before the room was dark." So, yes, he was fast. The fact that he suffered from a disease that would rob him of what he was best known for is truly devastating.
But, as we see from his quote about the word "impossible," nothing was going to stop him from being a legend. It is ironic in the cruelest way to think that Muhammad Ali was robbed of his speed, but, as he says, "impossible is temporary." This quote just proves that Ali believed that there wasn't anything that would permanently stop him — or anyone — from being the greatest they could be.