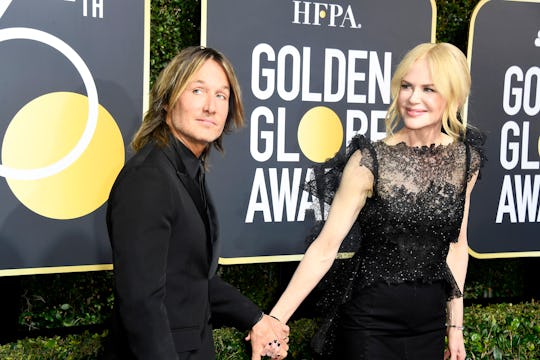 Frazer Harrison/Getty Images Entertainment/Getty Images
One Of The Most Important Things About Nicole Kidman's Golden Globe Win Is Subtle, But Powerful
As a survivor of domestic violence, I usually shutter when I hear about interpersonal violence portrayed on television or in movies. Useless tropes, dangerous stereotypes, and victim-blaming are among my biggest fears, and rarely, if ever, is domestic violence depicted in an authentic, accurate way. Enter: Big Little Lies. So when Nicole Kidman won a 2018 Golden Globe award for Best Actress in a Mini-Series, I was excited. Not just because she deserves the praise, but because I knew her acceptance speech would be poignant. And one of the most important things about Nicole Kidman's Golden Globe win was just that: her speech, and the subtle yet powerful point she made regarding domestic violence.
While accepting her award, Kidman said, "This character that I played represents something that is the center of our conversation right now, abuse. I do believe and I hope we can illicit change through the stories we tell and the way we tell them. Let's keep the conversation alive." Of course, Kidman is referring to her Big Little Lies character, Celeste Wright, a former attorney turned stay-at-home mom who is brutally beaten by her seemingly "perfect" husband. In one particular heart-wrenching scene, as described by The Washington Post, "The muffled screams of Celeste, played by Nicole Kidman, seep through an air vent in the couple's basement, where their twin sons were watching TV. Then the camera is suddenly at ground level with a gasping and shaking Celeste, whose curtain of red hair shields her face as she lies in a heap on the bathroom floor."
Kidman's character is not the "picture perfect victim," in that she doesn't leave her abusive husband, but suffers in silence. And the show itself, while centering around a murder, is more about the ongoing, everlasting impact of severe trauma.
According to National Coalition Against Domestic Violence (NCADV), "nearly 20 people per minute are physically abused by an intimate partner in the United States. During one year, this equates to more than 10 million women and men." Women are by far at a higher risk of experiencing domestic violence, and 1 in 3 women have been victims of at least some form of physical violence by an intimate partner within their lifetime. And since so many of those women are also mothers, "1 in 15 children are exposed to intimate partner violence each year, and 90 percent of these children are eyewitnesses to this violence," according to the NCADV.
Abuse victims are not "perfect victims" capable of leaving dangerous, unhealthy living situations the moment physical abuse transpires. Those women — like my own mother, who stayed in an abusive marriage for over 20 years — cannot just up and leave their abusive partners, regardless of what those who haven't experienced interpersonal violence think. According to the site Domestic Violence Roundtable, women don't leave abusive relationships for the following reasons: belief that the abusive partner will change because of his remorse and promises to stop battering, lack of emotional support, fear of the abuser who threatens to kill the victim, attachment to the partner, guilt over the failed relationship, financial dependence, feeling hopeless, lack of job skills, and, well, the list goes on.
But all that can change, slowly but surely, as more and more stories are told. If people see the real impact of domestic violence, and the real struggles victims face when trying to leave their situations, change is possible. If children and young adults learn, from a very early age, the difference between romance and abuse, infatuation and obsession, consent and coercion, more and more adults will be able to enter into, and enjoy, healthy relationships.
And that need to continue to share these stories, and speak out about sexual assault, was one of the many important parts of Nicole Kidman's speech. We need powerful women with far-reaching platforms to continue to shine a light that highlights all of us. We need complex, complicated women depicted in movies and film; victims and survivors who defy stereotypes that contribute to so many of us suffering in silence.
And our children need to see a woman who was able to play a domestic violence survivor on television look at her husband, with tears in her eyes, and say, "when my cheek is against yours, everything melts away, and that is love." Abuse is not love. Obsession is not love. Coercion is not love. Name-calling is not love. Manipulation is not love. It's support, and encouragement, and comfort, and it's the willingness to stand up for what is right, even when standing is difficult.
If you or someone you know is a victim of domestic violence, please visit The National Domestic Violence Hotline or call 1-800-799-7233.