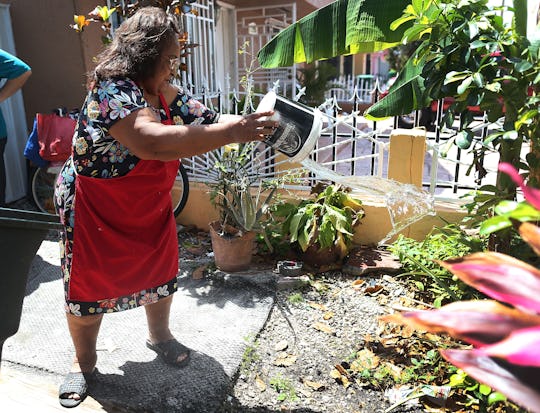 Joe Raedle/Getty Images News/Getty Images
One Powerful Way To Fight Zika Virus That Doesn't Include Bug Spray
If there's one thing that seems pretty clear at this point about the Zika virus, it's that it's a big deal. Zika has already become a huge problem in some South American countries, and now it's poised to be a huge problem here. So far, the bulk of the anti-Zika recommendations have been some version of "just try not to get it" — that is, avoid traveling to Zika zone if you're pregnant, wear condoms to prevent possible sexual transmission, be sure to empty standing water where mosquitoes can breed, and above all, don't forget the bug spray. But the truth is that none of those things will be particularly effective without also having a wider, more comprehensive government strategy to actually attempt to control the problem. Even though experts have called on officials to green-light extra funding to fight the spread of the virus, Congress appears to be stalling to approve it. So if you're worried about the mosquito-borne virus, there is one way to fight Zika that isn't bug spray: urging your Congressperson to approve the emergency funding they are currently holding out on providing.
According to CBS News, President Obama has requested nearly $2 billion to allocate towards preventing and controlling the Zika virus ahead of what is expected to be a significant outbreak — something which New York Sen. Charles Schumer argued is desperately needed if the states are expected to be able to do anything to get ahead of the virus. But there's a problem, according to Schumer: Congress can't seem to agree on whether or not spending the money will be worth it:
They sort of have this austere attitude: 'Let the public fend for itself'. That doesn't work when it comes to communicable diseases like Zika...We need Congress to act next week and next month, not in the summer, not when the crisis is already upon us.
According to Wired, some of the requested funds that Congress is lagging on approving are earmarked for on-the-ground, straight up, mosquito control. And what states have learned from past outbreaks of mosquito-borne illnesses (Key West had a dengue outbreak in 2009) is that containing those illnesses is time-consuming, labor intensive, and expensive (think, inspectors going door to door). Given that Zika is expected to hit the Gulf Coast in a pretty major way? That probably needs to start happening sooner rather than later, especially since those kinds of resources are already lacking in most states.
But the Zika funds would support other initiatives too, like funding for testing labs and staffing to track the virus — which is important, as many state and local public health departments are already struggling with budgetary cuts, according to the Washington Post. In other words, by not approving funding, Congress is asking people who are already having a difficult time dealing with public health emergencies as it is to tackle a massive new threat without much extra help. As Minnesota Health Commissioner Edward Ehlinger aptly noted,
It is short-sighted to fund that response by weakening all states' ability to respond to future public health crises.
It seems pretty well-established that a better Zika strategy is necessary, and that it's necessary ASAP. So what can you do about it? Even though the decision on funding lies in the hands of Congress, you can contact your representative to let them know that this issue is important, if not for you directly, than for all the pregnant women whose babies are at risk for developing severe microcephaly as a result of the virus, according to the Centers for Disease Control. If you're unsure of who your representative is, you can look them up by zip code, and from there you can either call or email with your concerns. And if online petitions are more your style, you can sign one of those too.
But in the meantime, you'll probably still want to ensure your bug spray game is strong this summer.