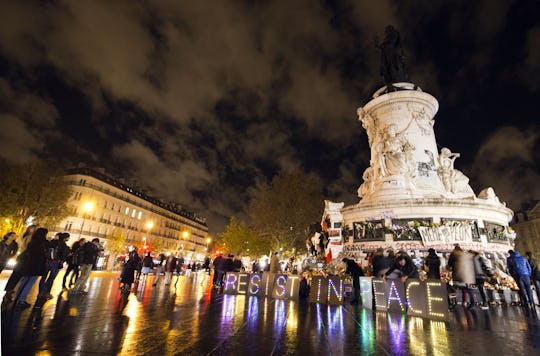 One Week After Paris Terror Attacks, This Is How Parisians Spent Their Friday Night — PHOTOS
Just one week ago, the terror attacks in Paris were quickly unfolding. The very next day, thousands of Parisians took to the streets to show that they were "not afraid." And on Friday night, one week after the Paris terror attacks, Parisians hit the streets once again to show that France really is all about life and the joie de vivre.
And I'm not just talking about joie de vivre when it comes to the country's wine- and cheese-filled culture either. This week, French President François Hollande delivered a speech declaring war with ISIS, but, more notably, he said that France will accept 30,000 refugees within the next two years. He had made the pledge back in September, but after last week's attacks and the ensuing global conversation about who will and who will not accept refugees, the fact that he reiterated that stance proves just how much France is committed to live and living. It's a very real way to demonstrate the values of the country, and its capital too.
Hollande said on Wednesday in a gathering to the country's mayors:
Life should resume fully. What would France be without its museums, without its terraces, its concerts, its sports competitions? France should remain as it is. Our duty is to carry on our lives.
And Parisians (and tourists) have obliged. With wine and cheese, of course.
Here are just a few examples of how Parisians spent their Friday night one week after the attacks.
Drinks, More Drinks, And Music
Gathering To Mourn
Standing Strong
Whether it's cocktails with friends, or gathering with neighbors to remember the victims, this week Paris proved that truly living can overcome tragedy.
Images: Joel Saget, Pascal Le Segretain (4), Thierry Chesnot (4), Pierre Suu/Getty