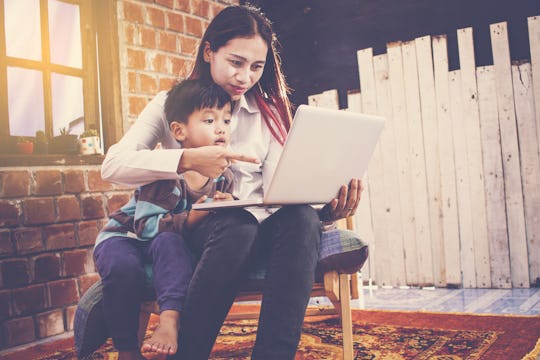 Panumas Yanuthai/Shutterstock
(Another) Mom Will Make It All Better: The Value Of Online Parenting Support
Whether it's on the playground, in the car line, or around the water cooler at work, those person-to-person conversations with other moms are an irreplaceable part of raising your own tiny human. Of course, we do a lot of our motherhood shop talk online these days, and that's never more true than when our kids are going through dramatic, life-changing transformations. Whether your child is facing down an illness or navigating their sexual identity, online parenting support is an invaluable resource: Sometimes (another) mom really can make it all better.
Jamie Brockman, a Greenville, South Carolina mom of three children with osteogenesis imperfecta (OI), a genetic bone disorder characterized by fragile bones that break easily, says online support groups have made a real impact on the quality of her children's lives.
"Since OI is a rare disease (it affects fewer than 20,000 people in the U.S. annually), it's unlikely to meet anyone else at random. It also means we have to be our own advocates, as there aren't many health care providers out there who are well-informed," Brockman tells Romper. "The group (that I belong to) has been so helpful, and I've learned so much. My kids now have a higher quality of life."
The fact that Brockman has been able to find deeply meaningful support for OI online is proof positive that there's a group out there for you, regardless of the situation your family is facing. Even positive change can be stressful and hard to manage, but everything can be made easier with the guidance of other, more seasoned moms who have been down the path before you.
Here's a look at just a few online support groups that may be helpful in your journey as a parent. This cross-section will give you an idea of just how many moms, in how many areas of experience, are out there ready to help.