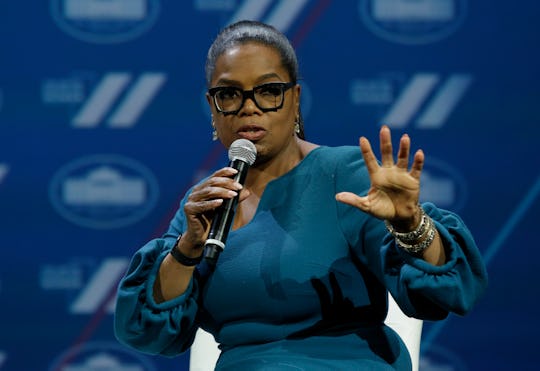 YURI GRIPAS/AFP/Getty Images
No One Loved Mary Tyler Moore More Than Oprah
2016 was met with an onslaught of heartbreaking celebrity deaths and unfortunately, 2017 is wasting no time in carrying on that tragic tradition. It has been confirmed by her longtime rep, Mara Buxbaum, that Mary Tyler Moore has died at the age of 80 years old. Her cause of death is unclear at this time, but celebrities and fans have already started taking to social media to express their sorrow over the loss of this iconic actress. However, it's Oprah Winfrey's reaction to Mary Tyler Moore's death that will be bound to break our collective hearts. And the proof of that fact can be found in one simple tweet.
Though Oprah herself has yet to take to social media about Moore's passing (she may not be aware that it happened, depending upon how busy her schedule was today), it isn't an exaggeration to say that Oprah cared very deeply about Moore. And if you have any doubts about that bold statement, please let me direct you to a video that was recorded back in 1997, when Moore surprised Oprah on her show. The excitement and delight on the talk show host's face more than proves how highly she thinks of the Hollywood star and demonstrates how devastated she's sure to be once she learns about her death.
Judging by this video, it's only a matter of time before Oprah takes to Twitter to express her grief over this unfortunate loss. Because if she was that happy to see Moore standing in front of her, I can only imagine how heartbroken she's going to feel to realize that will never happen again.
Moore can only be described as a true Hollywood icon right up there with the likes of her former costar Dick Van Dyke and countless others from that golden era of television. From The Dick Van Dyke Show to The Mary Tyler Moore Show, her performances have touched the lives of many and will continue to do so long after she's gone. Younger generations may not be as familiar with her as they should be, but her career was admirable and helped pave the way for many other female actors. Plus, when you have the ability to bring so much joy to Oprah's face, you know you're doing something right with your life.
As suspected, Oprah did eventually take to Twitter and post a very sweet tribute to her hero by recalling that very special day:
But just in case that isn't enough, Oprah also posted a photo of the two of them on Instagram with a tear-inducing caption, which read:
Dear Mary, You already know how you majorly influenced my life and career. I respected and admired your business acumen, your passion and compassion for all life, and most importantly, the values espoused through your storytelling. Thank you for being a Light that shined so brightly, it let me see myself in you.
So even though the actress has parted ways with this world, fans should take comfort in knowing that this is one star who will continue to shine brightly from now until the end of time. Rest in peace, Mary. We love you.