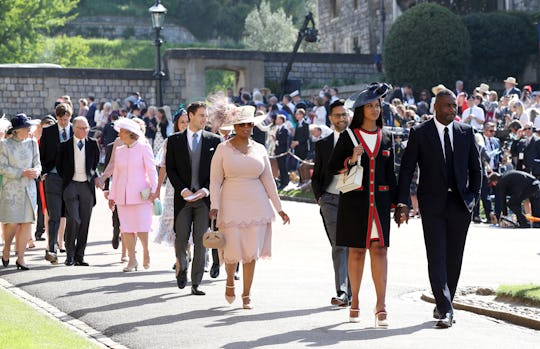 WPA Pool/Getty Images Entertainment/Getty Images
Oprah Is At The Royal Wedding & Her Hat Game Is Very Strong
One of the first guests to arrive for the royal wedding at St George's Chapel in Windsor, U.K. was true American royalty — Oprah Winfrey. Oprah's royal wedding look really had guests turning heads. She was gorgeously clad in a a form-fitting, baby peach dress, topped with a striking woven hat festooned with a spray of flowers.
The morning burned brightly with blue skies over the chapel as the media mogul walked the cobbles leading to the nave of the church behind Idris Elba and his fiancee, Sabrina Dhowre. In an off-script moment, Oprah's best friend and CBS commentator, Gayle King told viewers that this dress was a last-minute choice after her original dress arrived and it was deemed too white to wear to a wedding. King noted Oprah asked of her "Is this too white?" To which Gayle responded "Yes, that's too white." She just put this whole look together yesterday, proving that not even those of us with the most resources are 100 percent prepared for something as massively important as a royal wedding.
She can be seen searching for her seat in multiple videos, looking resplendent amongst the more than 600 guests invited to the royal wedding.
The peachy-pink Stella McCartney dress is simple but luscious. The sumptuous fabric gracefully outlines Winfrey's curves while remaining properly royal wedding appropriate. The hat is designed by the future Duchess of Sussex, Meghan Markle's favorite hat designer, Philip Treacy.
As guests of the wedding sip champagne and soak up the cool British sun, the guests inside will be seated for over two hours awaiting the arrival of Prince Harry and Meghan. Oprah, in true Oprah fashion, arrived in the first group of guests, making a true splash on the scene.
London paper, The Metro reported that Oprah was seen out and about in the U.K. for the past few days, hitting up the local scene and hanging with friends. Metro reported that people have been curious about the connection between her and Markle for some time. A few months ago, Metro reported, "In March, Meg's mum Doria Ragland was seen leaving Oprah's mansion, with sources telling The Mirror that she could potentially be interviewing her."
Obviously, she and the family became close enough that she was invited to the wedding of the decade, and her presence is surely something that will be talked about at many future royal weddings.
Oprah's royal wedding look isn't the first time the entrepreneur has worn Stella McCartney to a big British event. In 2014 she wore a stunning McCartney number to the BAFTA awards. As for that hat, Irish milliner Philip Treacy has a long, storied history designing hats for events like these, and according to The Independent; he designed at least 20 hats for today's event. Oprah's woven, wide brimmed hat is a star even at this wedding full of gorgeous fascinators and headpieces. One side of the brim is tilted jauntily, while the crown of the piece is wrapped in silk ribbon and decorated with a spray of creamy, barely pink roses, and a shock of silver and pink decorative feathers.
For Americans, the idea of wearing a hat to any occasion is pretty stressful. However, Oprah being Oprah didn't only wear a hat — she wore a striking sensation of a headpiece like the queen she is. Her confidence and poise is that of someone who was born to her place, and between her amazing McCartney dress and Treacy hat, she has cemented herself as a fashion icon. Everything from the top of her head to her four-inch pointy-toed mules is absolutely perfect fashion goals. Now, we just wait for her reactions to the actual wedding.