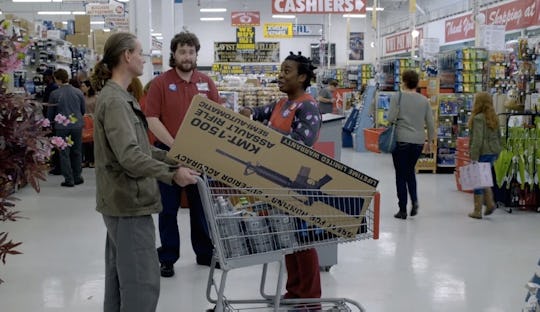 Netflix
'Orange Is The New Black' Encounters An AR-15 Assault Rifle & It Is Timely & Chilling
(Warning: This post contains spoilers from Orange Is the New Black Season 4, Episode 11.) Orange Is the New Black has always been timely, but in Episode 11 of Season 4, the show hit the nail so hard on the head, it's impossible to ignore. We finally learned more about Suzanne "Crazy Eyes" before Litchfield, who had a job at a big box store as a greeter. While the moment was quick, you might notice that Suzanne's backstory involved an AR-15. Yes, Orange Is the New Black Season 4 involved an AR-15 assault rifle, and its inclusion into the series — no matter how small — was timely and chilling.
The AR-15 has recently re-entered into conversation after the tragic Orlando Pulse shooting, so it is surprising to see that Orange Is the New Black already involved such a talked-about topic so close to the most recent tragedy. This wasn't predicted by the show, since the AR-15 has been a talked about weapon for a while. For instance, the weapon itself was used during the San Bernardino attack in December, 2015.
In the scene, Suzanne is checking a customer's cart along with their receipt to make sure everything on the receipt was what they were walking out of the store with. Their list was toothpaste, orange juice, and an AR-15 assault rifle. With that, the customer was OK to leave. While the statement is subtle, it certainly speaks volumes to know that it was so simple for a customer to walk into the fictional big box store that Suzanne worked at and purchase a rifle.
CBS News performed an interesting experiment following the Orlando Pulse tragedy and sent a producer to a gun store in Alexandria, Virginia (just outside of Washington D.C.). Just 38 minutes later — after showing two items of state residency and a passport — the producer walked out of the store with a rifle, ammunition, and a 30-round magazine. The news source points out that Virginia is one of the 41 states with no waiting period beyond a background check to buy a firearm.
Obviously, the Orange Is the New Black's scene touches very closely to home considering the season premiered not even a week after the Orlando Pulse shooting. It does prove is that Orange Is the New Black does not shy away from touching on such important social issues. Whether it is the Black Lives Matter movement, trans characters, or gun control, Orange Is the New Black continues the conversation on social issues that our nation is facing, which is so important.