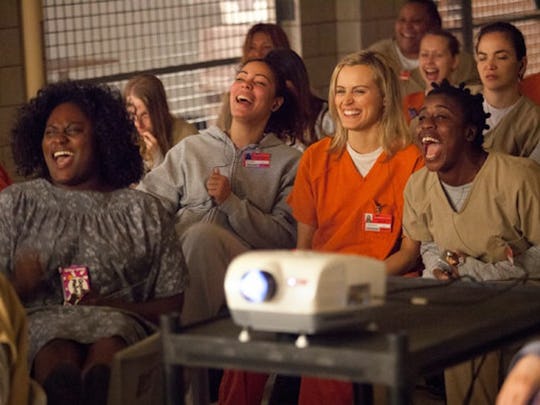 'Orange Is The New Black' Nominated For Golden Globes, & Things Look Really Good For The Show
Netflix hit Orange Is the New Black is currently filming its season, but ever since its inception, the compelling series has brought home tons of awards (not to mention tons of attention to the streaming platform). Today was no surprise, when OITNB was nominated for a Golden Globe. Uzo Aduba kicked things off for the cast when she was nominated for Best Performance By An Actress In A Supporting Role In A Series, Miniseries Or Motion Picture Made For Television. Orange Is the New Black nominations came seconds later, when it the show was nominated for the Best TV Series, Comedy or Musical. We definitely expected the show to have a huge presence for this year's Golden Globes — and with two nominations in two different categories already, we are so pumped to see how many more accolades they're able to put under their belt.
Revealed December 10, OITNB is up for several awards. But are we surprised? Uh, not really. This show is amazing and this season was no exception. I mean, two-time Emmy winner and one-time Golden Globe nominee Uzo Aduba took Suzanne ("Crazy Eyes") to a whole new level, and some of Litchfield's more mysterious personalities got some much-needed screen time. Most importantly, the series shows no signs of slowing down. Only in its third season, OITNB has already shown itself as a serious awards-season contender built with some intense staying power.
Not only are the story lines in-depth and well developed (save for whatever they were trying to make happen with Larry and Polly that one time), there is always new material and new niche plot lines to explore. While most shows usually pivot around the stories that their main and supporting characters are involved in, OITNB's approach has always felt incredibly unique: it's the women of Litchfield who make the story worth watching — not just Piper. While Taylor Schilling is a wonderful actress, I can count on one hand all of the times I've been fully invested in where Piper's going and what she's doing. It's always been the "secondary" characters, like Poussey, Red, Suzanne, Pennsatucky, Lorna, and Taystee, who've given the show its unique DNA. In fact, it's the reason fans keep coming back.
It should go without saying that we can't stop raving about (or binge watching) OITNB. But it's comforting to know that the Hollywood Foreign Press Association has love for the show, too.
Here's the full rundown of the OITNB nominations:
Uzo Aduba, Orange Is the New Black, Best Performance By An Actress In A Supporting Role In A Series, Miniseries Or Motion Picture Made For Television
Orange Is the New Black, Best TV Series, Comedy or Musical
Here's what the cast and fans have had to say about the nominations:
Image: Netflix