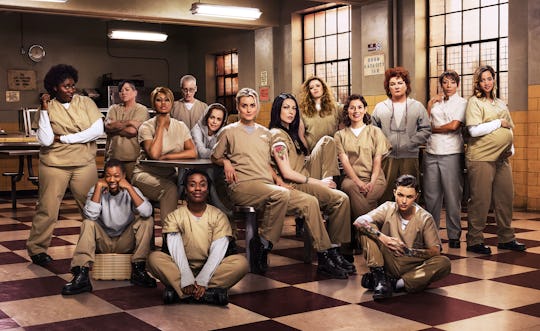 'Orange Is The New Black' Season Four Teaser Is Out, So Get Ready More Drama Behind Bars
Netflix dropped its first official season four Orange is the New Black teaser on Sunday, and the ladies of Litchfield are — as usual — up to no good. Thanks to a corporate takeover in season three, the prison is still running, and it looks like the usual cast of inmates are sticking around, along with a few new faces. The teaser gives us some valuable hints at what's to come, with flashes and voiceovers from a few favorites. Alex is still horrified that she's back, Taystee's got herself an office setup, and we even got a few glimpses of Piper, Crazy Eyes, Red, Lorna, and Nicky. Litchfield may have changed hands, but the gang's all here.
Fans now have a premiere date to add to their calendars too, with the fourth season coming to Netflix on June 17. Luckily, there's more to know about the upcoming season than is shown in the trailer alone, since Orange is the New Black creator Jenji Kohan spoke to reporters Sunday at a press tour in Pasadena. "The theme thing was hard this year," Kohan told reporters, according to Variety. "We start with political agendas, the corporatization of the prison, the stratification of people into their little mosaic groups. We want it to be a surprise, but [you can expect] all the fun stuff like race and hate and some things from current events that we wanted to filter through our lens." (Current events? Elections? Trump? I can only dream of an episode where the inmates talk about their views on the current GOP front-runner.)
"There will be some people you've already seen, some backstories that you'll get more of, and then new people," Kohan explained, suggesting that Piper might not be the main event in season four. "Piper was our entrée to our world. She's always a presence and we're invested in her story, but as it grows, we're invested in everyone's story."
The show's premiere date is welcome news to fans who have been hanging on the streaming service network's every word since last June (because let's be honest, I know you binged the entire season in two days):
The Orange is the New Black cast managed to stay vague at the Pasadena press conference, but Dascha Polanco, who plays inmate Dayanara Diaz, let slip that "season four [would] push the envelope to the next level." New actress Blair Brown (who plays Judy King) also praised the show for its realistic portrayal of women. In her experience working on series like Fringe and Limitless, she said, "They don't have anything against women, they just don't know how to write women."
Amen! I'm excited for a new season of badass, hilarious women who tackle real issues and don't shy away from pointing out the uncomfortable bits of society. Netflix better be ready for thousands of fans to overload its servers on June 17, because you'd better believe there will be some binge-streaming happening.
Images: Jill Greenberg/Netflix; Netflix US & Canada/YouTube.