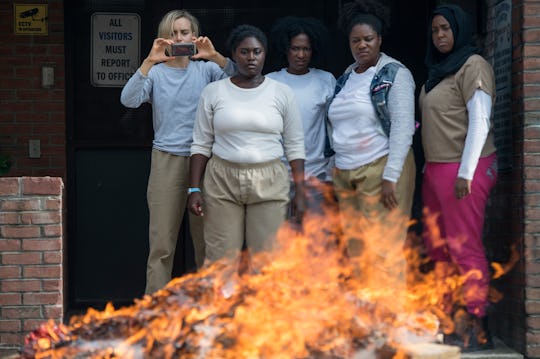 Jojo Whilden/Netflix
How 'OITNB's Social Topics Have Made Its Stars Fearless
Even in the wake of Wonder Woman's highly anticipated release, female representation in the entertainment industry still has a long way to go. But that doesn't mean that there aren't a plethora of strong, empowering female characters who can be found even in the most unlikely of places — like Litchfield Penitentiary, for instance. Orange Is the New Black Season 5 hit Netflix on June 9, allowing viewers to witness the aftermath of Poussey's untimely death and contemplate the future of Litchfield as a whole. OITNB stars Danielle Brooks and Adrienne C. Moore, who play Taystee and Black Cindy respectively, recently opened up to reporters at a Netflix roundtable event about how proud they are to be part of a show that tackles such important issues — like rights for women of color in prison — and why starring on OITNB has made them feel fearless in all aspects of their lives.
"The injustices with the African American community, their incarceration, and being brutalized by the police community... we are taking these conversations and putting them out front for people to really look at and talk about," Moore explains to reporters. "This female-driven show is doing that, so I think it's empowering and I think it's powerful and it has given me, and I think a lot of us, a huge sense of fearlessness to talk about the problems in our society."
In Season 4, Orange Is the New Black tackled arguably one of its darkest topics yet when viewers watched as Poussey was killed after a peaceful protest escalated to violence and an officer pinned Poussey down while using excessive force, causing her to suffocate. While the tragic incident itself was fictional, the circumstances surrounding it (a law enforcement official using unnecessary violence on a person of color), is all too real. But thanks to shows like OITNB, these issues — and the tragedies that have followed— are being brought to the forefront. And the fact that it's being done by a diverse, predominately female-driven show makes it all the more satisfying.
"We are at the precipice of uncovering a lot of the ugliness that is in our society... towards women, towards our incarcerated community, towards for-profit prisons," Moore states. The mistreatment of female prisoners is another very real problem. In fact, just earlier this year, NPR reported that over 100 female federal inmates, who were being kept at the Metropolitan Detention Center in Brooklyn, suffered from severe overcrowding and complained that they were unable to get any proper medical care, including gynecological visits. "All these things we're exposing and we're talking about on our show, it's causing people to wake up and to listen and to react."
Litchfield offers a deep look inside of what really goes on inside these prison walls (with a few fictional twists incorporated in, of course). But that doesn't deter from the message the series is sending: a change needs to happen.
The show hasn't only inspired social justice, but it has also inspired its cast. Brooks has broaden her horizons in the entertainment industry and allowed herself to realize that when it comes to her career ambitions, the sky is the limit. "I appreciate our show giving women the chance to also direct and to be running the cameras," Brooks reveals. "This being my first major job, it's showing me that I don't just have to be an actor. I can be a creative, too, and I have all of these women that I can shadow when it comes to wanting to produce or direct or even create my own show..."
Suffice to say, Orange Is the New Black brings a lot to the table and inspires both fans and actors alike to be as bold and fearless as these Litchfield inmates.