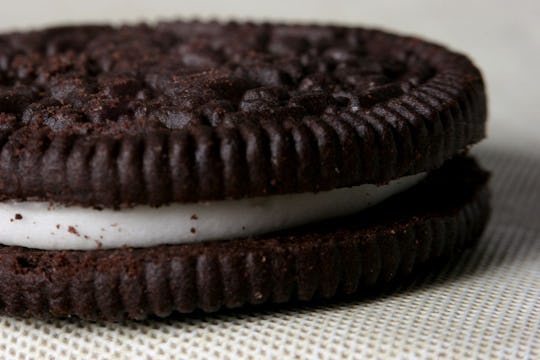 Image Courtesy of Mihoda/Flickr.com
OREO Churros Are Real, And They Sound Like Heaven
So, I'm gonna go ahead and assume that we all know the simple, nostalgic deliciousness of a fresh OREO cookie. Honestly, OREOs might just be the perfect food: they're chocolatey, crunchy, dippable, portable, and the co-star to some of the best memories of your childhood. (I promise they didn't pay me to write that; I just really do love OREOs). But seriously, they couldn't get any better, right? Ha! That's where you'd be wrong. Because, my friends, OREO churros are coming to your local freezer section, and they sound glorious.
For some of us, OREO churros are kind of old news. The treats were introduced last year by OREO ® and J&J Snack Foods at the National Association of Convenience Stores trade show and described as the best of both foods: a crispy exterior, the "warm soft interior" of a churro, and a "'just-baked' OREO ® cookie taste." Since then, the official OREO Churros have been available for a while at concession stands, state fairs, amusement parks, and other places you'd normally associate with happiness and fun times. And a few recipes for tasty-looking OREO churro inspired imitations are available online for those times when you're feeling both hungry and ambitious.
But as you might expect, people went so nuts over the churros that the makers had to come up with an at-home option. "We were overwhelmed by the national buzz surrounding the original OREO Churros, so immediately began working on a product line extension so that the snack was available to dippers or grippers," said J & J Snack Food President & CEO Gerry Shreiber in a press release announcing the new retail versions.
While some of the OREO ® variations have gotten less-than-stellar feedback from consumers (looking at you, Caramel Apple OREOs), this is one update that it sounds like fans can actually get behind. Now, you can head straight to the grocery store and pick up either the 10" creme-filled OREO Churro, or the creme filled OREO Churro Bites. But both versions will come with a cookie-crumb/sugar topping that you roll the churros in when they're warm from the oven "to enhance the real OREO cookie flavor."
Man, listen. I don't know about you, but I was sold at "warm from the oven."
In the spirit of full disclosure, I'll confess that I haven't yet tasted the new OREO Churro for myself. But that's only because I need to go find my keys and get myself to the supermarket.
Image: Mihoda/Flickr