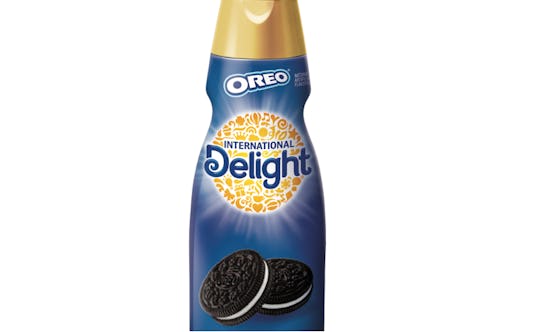 International Delight
America's Favorite Cookie Is Officially Meeting The Most Important Meal Of The Day
It's official: America's Favorite Cookie is about to become part of mom's favorite drink. Starting July 18, you'll be able to find International Delight OREO cookie-flavored creamer on shelves nationwide, giving you a decadent reason to hop out of bed in the morning. Remember when your parents told you that you couldn't have sweets for breakfast? Well, you're the boss now — and times they are a changin'.
The OREO cookie has been around for over a century, and for one reason: it's the perfect cookie. I'm not trying to brag, but I consider myself a bit of an OREO connoisseur. I've tried Double Stuf OREOs, Mini OREOs, OREO Thins, and the Golden OREOs. I've eaten them in ice cream, on donuts, and dipped in fudge. There's one thing I've discovered, after hours of meticulous research: the OREO flavor is always good.
Full disclosure: I'm a firm believer that OREOs are a totally acceptable part of a balanced breakfast. Have you ever tried OREO Os cereal? Let me tell you: it's hard to have a bad day when you start it with what is basically a bowl of OREOs. Plus, after eating the cereal, I was left with a massive bowl of cookie-flavored milk. If this coffee creamer tastes anything like that cookie milk... well, we're all in for a big treat. Trust me.
This isn't the first time International Delight has created a candy-creamer hybrid to blow our sleepy minds either. The new OREO cookie creamer joins a delicious family of other American favorites, like REESE's Peanut Butter Cup, Cold Stone Creamery Sweet Cream, and Cinnabon. Because this creamer was concocted with Mondelez International Group, the company that makes the real cookies, you know you're getting the legit OREO flavor that you've grown to love. Or, in my case, the flavor that you've just innately loved since the day you left the womb.
This creamer marks the second time International Delight and OREO have teamed up to create a delectable duet. Earlier this year, they released an OREO flavored ice coffee that could be poured over ice and enjoyed immediately. The only downside? This iced coffee is available for a limited time only, and my refrigerator can only hold so much — that and my husband has some bizarre issue with me hoarding cartons of iced coffee. International Delight's OREO cookie flavored creamer is not a limited time only product, though, so it will be there whenever you need it. Phew!
Some people spring out of bed every morning, bright-eyed and bushy-tailed, energized with the exhilarating knowledge that every day is a gift. Good for them, right? Then there are people like me. I typically roll out of bed looking a bit like Charlize Theron's character in Monster, heading like a homing pigeon to the coffee maker and avoiding human interaction at all costs. I'm not promising my wake-up calls will be any prettier or friendlier, but even I can be bright-eyed and bushy-tailed for some cookie coffee. We all find our purpose somewhere.
International Delight's OREO creamer will be available in 32-ounce bottles for a suggested retail price of $3.29. Each bottle contains 63 servings, which means you've got two months worth of blissful mornings. Side note: each one tablespoon serving is only 35 calories a pop, which is 10 calories less than a single Oreo cookie. According to my math, this creamer is basically healthy. You'll be able to find International Delight's OREO creamer at your local grocery stores and mass market retailers starting July 18 — well, as long as your neighbors don't find them all first.