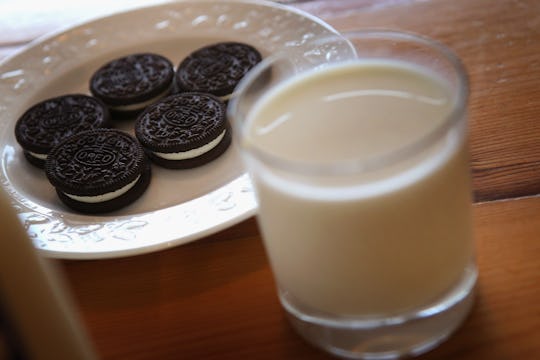 Scott Olson/Getty Images News/Getty Images
This New Oreo Dunking Kit Will Top Cookie Lovers' Holiday Wish Lists This Year
Every holiday season, there's always that one gift — a little something with that certain je ne sais quoi to it — that becomes a huge holiday shopping hit. It's a little early for Santa, but I have a bet about what this year's must-have gift might be. Oreo's Dunking Kit for your milk and cookies looks like fun for the kids and a lifesaver for parents. After all, it's designed so you can have your enjoy cookies and eat them, too... all without crumbs.
The kit, dubbed the "Ultimate Dunking Set," is brand-new at Walmart and as described on People, manufactured by the Frankford Company. And boy, did these guys see my family coming.
How else did they know to create a set that includes two mugs, each with a plastic blue Oreo-stacker attached, two pairs of red tongs for dunking, and, of course, a set of the one-and-only Oreo sandwich cookies. Because of the stacking device and the tongs, the idea is to get your cookies-dunked-in-milk fix without the usual side effects — little (and big) fingers full of chocolate-y crumbs, which will, inevitably, end up on the couch. Utter genius, right? The kit, which is currently available on Walmart's website for about $18, includes 13 Oreos and even some napkins, just in case.
What's more, the blue stacking tray for the cookies has its own unique name, as reported by Scary Mommy — it's a "cookie cage." Original, even if Oreos themselves aren't entirely. After all, Hydrox cookies were essentially an Oreo precursor, as Delish noted.
The creation, originally known as an "Oreo Biscuit," has its roots in New York City, at Nabisco's bakery between 15th and 16th Street. That's why 15th Street at Ninth Avenue in Manhattan is officially known as "Oreo Way," as Delish noted. And from its humble Big Apple beginnings, the sweet treat went on to become an international hit.
As for the cookie itself, it has gone through numerous variations. Delish reported that there was even a lemon meringue flavor, but that it wasn't very popular. I hadn't ever noticed the cookie's name changes over time that the site reported either: From the starting moniker of "Oreo Biscuit," the name was changed in 1921 to "Oreo Sandwich," then "Oreo Cream Sandwich" in 1937 and "Oreo Chocolate Sandwich Cookies" in 1974.
Over the years, Nabisco has produced special-edition version with colored cream filling, including a blue-cream Oreo version to go along with the Rio movie series. (You can still order such versions on Amazon.)
And the popular cookie has a lot of followers, with celebs from Rihanna to John Mayer having pledged their allegiance to the snack, according to Elle and The Cut. (The Cut reported that Oreo super-fan Mayer posted pics of mini-Oreos in milk as his "breakfast.")
So those of us who are big fans can really enjoy the Oreos-and-milk combo more than ever this holiday season, especially knowing you can stress less about the mess. The Ultimate Dunking Kit was reported at some Rite Aids according to Instagram account Snack Betch, but mine doesn't have it. So if you have serious cookie monsters at your house, I would advise checking out Walmart super-soon.