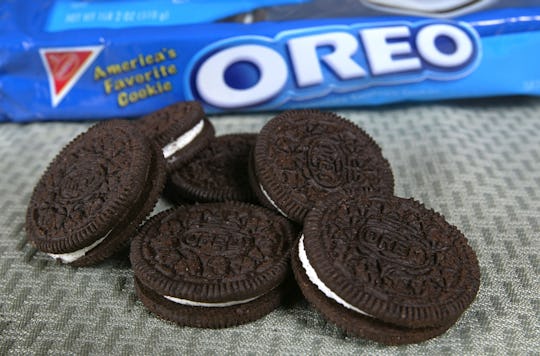 Justin Sullivan/Getty Images News/Getty Images
Oreo's Newest Flavors Are Definitely Not What You're Expecting Them To Be
Oreo has come out with plenty of unique flavors over the years — but the company's latest experiment just may be its boldest yet. Oreo just launched Hot Chicken Wing and Wasabi flavored cookies. Yes, you read that right. Here's everything known to date about the new treats (or perhaps, tricks?) so far.
Mondelēz International, Oreo's parent company, announced the new flavors on Twitter last week. "Innovation sensation: #TeamMDLZ @Oreo just launched two new BIG and BOLD flavors in #China: Hot Chicken Wing and Wasabi!" Based on the tweet, it would seem that the new flavors are only available in China, unfortunately. A spokesperson for Oreo tells Romper via email that China is in fact the only country selling the two new flavors.
That being said, I can't say I'd be too interested in trying either flavor. Maybe it's just me, but when I eat a dessert, I want to relax... not have my mouth feel like it's on fire. And there are plenty of people on the internet who agree.
"I know when I have a hankering for a special treat the first thing that comes to mind is...wasabi Oreos..." someone sarcastically tweeted, alongside a GIF of a person looking grossed out. "I have never heard of a more disgusting arrangement then Chicken Wing and Wasabi Oreos," someone else wrote on Twitter. "Wasabi and hot chicken wing have ABSOLUTELY NO BUSINESS being Oreo flavors! Don't @ me," another critic added.
However, someone Oreo fans were actually intrigued by the new flavors. "Idc how nasty they are I will eat Hot Chicken Wing Oreos FRFR," one fan tweeted. (FRFR is internet speak for "for real for real.")
And some people could see how the wasabi flavor would be tasty, but were skeptical about the hot chicken flavor. "I can understand the logic behind spicy wasabi mixed with the sweet Oreo. But hot chicken wing? Who wants a cookie that tastes like chicken?" a fan tweeted. "Don't even joke about Wasabi Oreos because that sounds so great," someone tweeted. "Now I want to try the wasabi Oreos," someone else added.
According to Design Taxi, Oreo says the new cookies have "salty and spicy" flavors that "you never knew" a cookie could have. In a good way or a bad way, though? Come on, Oreo, the people need to know!!!
Even though the wasabi and hot chicken Oreos have only been released in China, they have already made their way to eBay. I was able to find two listings for the cookies. One listing, which is based in Beijing, has already sold 80 boxes of Oreos, and more are still available, for $13.99 a box. The listing offers both the wasabi and hot chicken flavors, as well as vanilla, matcha, and birthday cake flavors.
The other listing is selling boxes for $23.99 each, and flavors in addition to wasabi and hot chicken include vanilla, matcha, birthday cake, blueberries and raspberries, sweet orange and mango, grape and peach, black and white chocolate, and gold chocolate. Wowza!
These are not the only Oreo variations to hit the market as of late. According to PopSugar, some of the weirdest flavors from the last few years include Swedish Fish, Caramel Apple, Chocolate Strawberry, Peeps, Pumpkin Spice, and Fruity Crisp Oreos.
Not to mention, if hearing the words wasabi and Oreo in the same sentence is giving you déjà vu, that's probably because of the popular YouTube challenge called Wasabi Oreo Roulette. For the challenge, people squeeze Wasabi inside of a few Oreos, mix them up with un-tampered-with Oreos, and randomly eat cookies until they get to the spicy one. Whatever keeps kids having fun these days...
So if you're bummed that wasabi Oreos are not available in the United States, feel free to take part in the Wasabi Oreo Roulette challenge — at your own risk.