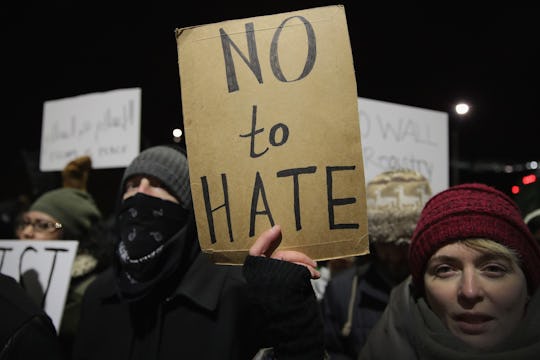 Scott Olson/Getty Images News/Getty Images
Donate To These Organizations To Help Refugee Kids
Since President Donald Trump signed an executive order on Friday temporarily barring refugees from seven Muslim-majority countries from entering the United States, opposition to the ban has exploded. It's easy to feel helpless in the face of such a heartbreaking order, but there's one easy way to make a difference and aid the people most affected — by donating to organizations that help child refugees. And there are plenty of options for places around the world that are doing good work.
In the days since the order, which indefinitely bars Syrian refugees (including children) who are fleeing a brutal dictator from entering the country — even after thorough vetting — massive protests have sprung up across the country and the world. Lawyers have flocked to airports, where they have offered free legal service to those detained under the new executive order. And at a rally in New York City on Sunday, with the Statue of Liberty in the background, Palestinian-American activist Linda Sarsour reminded the crowd of New Yorkers aghast at the ban that "it's time for us... to put our money where our mouths are" and donate to the organizations that are on the ground and can do the most direct good work.
So here are a few of those organizations.
The International Rescue Committee, or the IRC, has a long history of helping people affected by humanitarian crises across the world. According to its website, in 2015, the organization (along with its partners) was able to aid 23 million people. It currently has an emergency appeal up on its website to "help the refugees in the U.S. affected by Trump's ban," and says the funds will be used to "cover anticipated funding gaps tied to the Trump Administration's executive order." It will also provide aid on things like "housing, cultural orientation, health care, education, employment, and immigration services."
Unicef, which has been helping vulnerable children in 190 countries and territories for the past 70 years, reaffirmed its commitment to helping refugee children in the wake of the Trump ban, saying in a statement, "All refugee children need our support."
The United Nations High Commissioner for Refugees (or UNHCR) provides refugees from war-torn countries with necessary emergency supplies. They've been active recently in Aleppo.
The anti-poverty program Oxfam International also focuses on helping refugees by providing them with legal aid, medical assistance, and basic necessities like showers and toilets. Oxfam America features a statement against Trump's order on the home page of its website.
And a newer organization doing a lot of good work is Karam Foundation, which focuses on helping Syrian refugee youth continue their education, and also provides aid to Syrian families.
In case you'd like to keep looking, Cosmopolitan has a good round-up of organizations helping refugees.
Now is the time to take action. Whether you voted for Trump or not, assisting children affected by his order should, at the very least, be high up on your priority list.