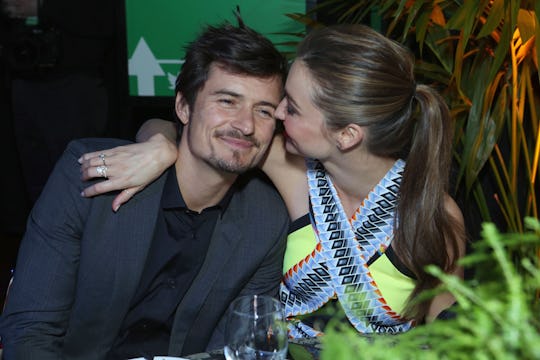 Alexandra Wyman/Getty Images Entertainment/Getty Images
Orlando Bloom & Miranda Kerr Are Co-Parenting Goals
They may no longer be in love, but Orlando Bloom and Miranda Kerr are clearly still a family. The former Victoria's Secret model turned 34 on Thursday, and celebrated with cake, cards, and a sweet piano serenade on Snapchat. But Orlando Bloom's birthday message for Miranda Kerr on Instagram proved that the former spouses definitely have the "staying friends after divorce" thing completely down. According to People, Bloom shared a snap of a homemade wooden sign made by the couple's 6-year-old son, Flynn, for his mom's birthday, along with the caption, "HAPPY BIRTHDAY to an amazing mother, co-parent, and friend."
The actor's loving birthday message isn't entirely surprising though, particularly given that both Bloom and Kerr have long maintained that they would always remain on good terms for the sake of their son. The one-time couple married in 2010 after three years of dating, according to The Daily Mail, but announced their separation in 2013, two years after welcoming Flynn. They've both since moved on to other relationships — Kerr announced her engagement to Snapchat founder Evan Spiegel in July 2016, according to Entertainment Tonight, while Bloom split from girlfriend Katy Perry in February — though they've obviously figured out how to remain amicable co-parents. In fact, according to Harper's Bazaar, Kerr said in January that, nearly four years after their split, she and Bloom were still super close:
Orlando and I are literally like family, he's like a brother to me. It's very weird, but we really care for each other and we have a great relationship, so I feel very lucky.
That's a pretty impressive thing to be able to say about your relationship with your ex-husband, and there's no doubt that it must be so wonderful for their son to have his parents remain close despite not actually being together. What's more is that they also seem super supportive of each other's subsequent relationships. Prior to Bloom's split with Perry, Kerr said that her son "[got] along really well" with the singer, according to Harper's Bazaar, and last summer, Kerr even posted a selfie of her and Perry on Twitter taken at a fashion show in Los Angeles, according to The Daily Mail. Bloom, on the other hand, is reportedly totally approving of Kerr's soon-to-be hubby as well: according to E! News, a source close to the couple said that Bloom was "happy for Miranda," and that "Orlando knows that Evan treats Flynn well so that's all that matters to him."
Of course, navigating post-divorce relationships isn't easy, especially when you have a young child together. But in 2016, Kerr explained to The EDIT that she and Bloom had set ground rules for new relationships — at least when it came to introducing new partners to their son. She explained, "[Orlando and I decided] that we had to know the person for six months and feel good about them," which seems like a pretty healthy and realistic approach to moving on while still keeping things respectful. And it seems to have worked out well: according to Vogue, Kerr said that Flynn and Spiegel "adore each other," and that while she said she "was very careful" at first, and that she "wanted to be certain" her relationship with Spiegel was the real deal, these days, she said she "[loves] to watch them playing together."
While it's unlikely that Kerr and Bloom anticipated when they married that one day they'd be co-parenting their son separately and watching each other move with different partners — and while they have also probably still had to weather their share of post-split ups and downs — it seems like the same love and respect they had for each other as spouses has endured. As far as role models for happily divorced "modern families" go, Kerr and Bloom seem to be doing a great job showing the world what can be possible when your relationship might not be working, but your love for the family you created is still number one.